I met Tanya Kuzmanovic when I was a new ordinand, just starting out in ministry at St. Jude's in Oakville, and she was a new mother, baptizing her children in the life of the church. We continued our friendship over the years, even as life took me to a number of other places to live and serve. We bonded over our love of writing, the joys and challenges of parenting, and our fascination with the beautiful, strange and crazy world we live in. Tanya was disarming in her honesty and directness, as well as the generosity and bravery of how she poured out love on the circles of family and friends who had the privilege of being part of her life.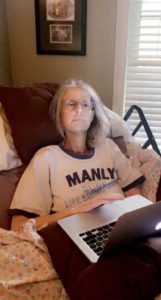 Tanya died at the end of last year after having been diagnosed with a rare and aggressive cancer mere months before. She was too young. I sat with her in her family room a few days before she died. We talked about all of the things we always talk about. Family and friends came and went from the room continually, which is exactly what Tanya wanted. She reflected on dying young and how she would love to have more time. "But as far as deaths go," she said, "mine will be a good one." She wanted to die in her beloved home with her beloved people surrounding her. She told them that they could be sad as they accompanied her to the brink, but they didn't need to be scared.
There is a blessing that I share with my congregation, week in and week out. It says,
"Life is short,

And we do not have much time to gladden the hearts of those who travel the way with us.

So be swift to love,

Make haste to be kind,

And may the blessing of God be upon you today and always."
I think of that blessing now as I read Tanya's final blog post and think of that last visit with Tanya in her love-soaked family room. I am grateful for her friendship in my life. I will forever be marked by her witness: we can indeed embrace the impermanence of this world and this life, and we can do so held in the certain and abiding truth of Love.
I share with our church these brave and grateful final words from this brave and remarkable woman I had the great fortune to call my friend.
---
The Family Room
Sometimes as I sit here, in my family room—I'm convinced there isn't another room anywhere in the universe that would ever be capable of offering me the comfort that this one does. It reminds me of all that I have—when I look up on the mantle and see the smiling faces of my three; when I see my wedding photo on the side shelf—where two young, almost unrecognizable young people hold hands and beam—clueless at all the hardship that awaits at being an adult, it reminds me that I'm loved. It is warm and welcoming; the couches are soft and warm or cool and sturdy—depending on what I need at any given moment.
The windows look out over my quiet and charming and leafy street, reminding me how lucky we were to snag this house on this street before the housing prices skyrocketed. If my back screen door is open, I can sometimes hear the music playing from my neighbour's backyard—usually something folksy; or the neighbours next to them—the husband often sings aloud—I'm not even sure he knows his neighbours can hear him—and how much I enjoy hearing this; the clink of silverware on dishes coming from other houses as families sit down and eat together. Then there's my TV where I can watch whatever I want whenever I feel like it.
One day, this room won't exist. It will disappear—become stripped of its comforting elements—photos will go in boxes, TV will be trashed, knick-knacks passed along, sold, given away, donated; furniture deemed old fashioned and left on a curb somewhere; photo albums flicked through—maybe saved, maybe tossed away. Another family will take over, walk into this stripped-to-its-bare-bones family room and decide what they will do with it—repaint, redecorate, refurnish—or maybe tear down completely—replacing it with an entirely different room altogether.
One day, there will be no one alive who will remember this room—who will look back on it and think of the comfort and happiness it inspired. No one will know of the times we sat here as a family, cozied up on the couches under blankets, eating popcorn and watching movies or tv shows. The kids who remember coming into the family room to tell their mom about their day at school will be gone—hopefully after living long and happy lives.
Tanya's original post can be found on her personal blog.