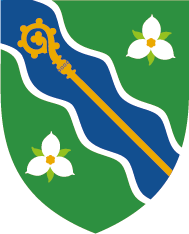 This is an official publication of the Diocese of Niagara, based on the newsprint edition published 10 times a year from September to June as a supplement to the Anglican Journal.
We are called to life and compelled to love! Ignited by the irresistible love of Jesus and renewed by the Holy Spirit, we partner with God to deepen faith, share stories, and care for God's world.
The Diocese of Niagara lies at the western end of Lake Ontario, encompassing the Niagara Peninsula, Hamilton, Halton region, Guelph and portions of Wellington and Dufferin counties.
Publisher:  Bishop Susan Bell
Editor: Connor Jay
Advertising: Angela Rush
Print edition Art Director: Craig Fairley, Imagine Creative Communications
To subscribe to the print edition of the Niagara Anglican (an insert of the Anglican Journal), go to the Anglican Journal Subscription Centre and complete the subscription form. Please ensure the box beside "Niagara – Niagara Anglican" is ticked in the Subscription section to receive the Niagara Anglican.
For a complete staff directory and more information, visit our diocesan website.