In early February, Bishop Susan Bell, along with other supporters, spoke to the City of Hamilton's emergency and community services committee to endorse the initiative of the Hamilton Alliance for Tiny Shelters (HATS), which seeks to provide modular cabins to address the lack of space at shelters and access to other housing options for many in Hamilton. Though these cabins would not be a permanent solution, they will aid in raising further awareness at the major lack of safe, affordable housing in the Greater Hamilton Area.
HATS is a coalition of groups that includes the Social Planning and Research Council and the Hamilton Roundtable for Poverty Reduction, and its creation was inspired by its counterpart in Kitchener-Waterloo, A Better Tent City. HATS is working with the Hamilton-Wentworth District School Board (HWDSB) to determine an appropriate site for 20 tiny homes that will offer warmth and safety to people experiencing homelessness.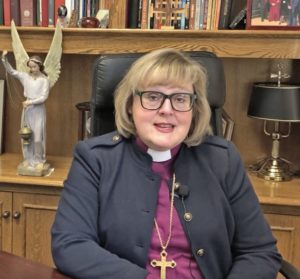 "Too many unhoused people in our beloved city are facing impossible choices—choices many of us simply cannot fathom," Bishop Bell shared with the committee. "Many can't access the traditional shelter system, while others are often unable to stay in congregate settings."
Bishop Bell suggested that HATS offers a "compassionate alternative … that can keep people safe and supported." In her endorsement of the initiative, the Bishop described this approach as "a more dignified way to respond [in order] to ensure our neighbours who are unhoused have the opportunity to seek shelter, warmth, and safety—especially through these bitterly cold winter months."
The Bishop referred to other communities of modular houses in nearby cities like Kitchener and London that have served similar purposes. Drawing attention to the diocese's vision statement, Called to Life, Compelled to Love, Bishop Bell noted that we should be drawn toward exploring any solution that demonstrates love of our neighbours.
This included the possibility of utilizing diocesan property as a potential site for the establishment of the tiny homes, before the site of the former Sir John A. Macdonald High School was identified by the HWDSB, HATS, and the city as the most favourable option due to its availability of more private space, as well as proximity to essential services.
"The city's vision invites all of us to work to make Hamilton a better place for all people—especially those who are at the margins," Bishop Bell concluded.
To hear the Bishop's address to the emergency and community services committee, visit https://www.youtube.com/watch?v=GoPyCrKLDWw.