by John Dennis
The Church of St. Matthias and St. James the Apostle Guelph collected sewing machines and sewing materials to send north.
The project, Sew North, was carried out in collaboration with the Guelph Tool Library and St. Paul's Church in Norval. The goal was to collect and tune up sewing machines and gather sewing materials to send to First Nations communities in Northern Quebec. The program ran from April 14 to May 12 and donations were collected at both the church and the Guelph Tool Library.
The idea for the project came from Environment and Social Justice Committee member Mary Ann Robinson. She said, "this is an excellent project both to provide assistance where needed, and at the same time moving some things out of your own storage after you no longer use them. Downsize with purpose!"
Sew North is part of the Inuit Outreach Project (IOP) which has been running for nine years in Niagara Diocese.
Materials are sent to the north through a program offered by Air Inuit. It flies to a number of communities in Northern Quebec and provides free transportation for donated materials when they have unused cargo space.
Program Coordinator George Gastle of St. Paul's says their aims are twofold, firstly "to provide essential items for daily living and secondly, to learn about yesterday's and today's Inuit culture and share information about living conditions for our northern neighbours".
George reported shipments have gone to nine communities in the past nine years.
After the project ended on Saturday, May 12, the church hosted a packing and fixing day.
Volunteers from the Repair Café Guelph (RCG) serviced and tuned up all the machines going north. RCG is an outreach program of the Guelph Tool Library that holds free events every two months around Guelph.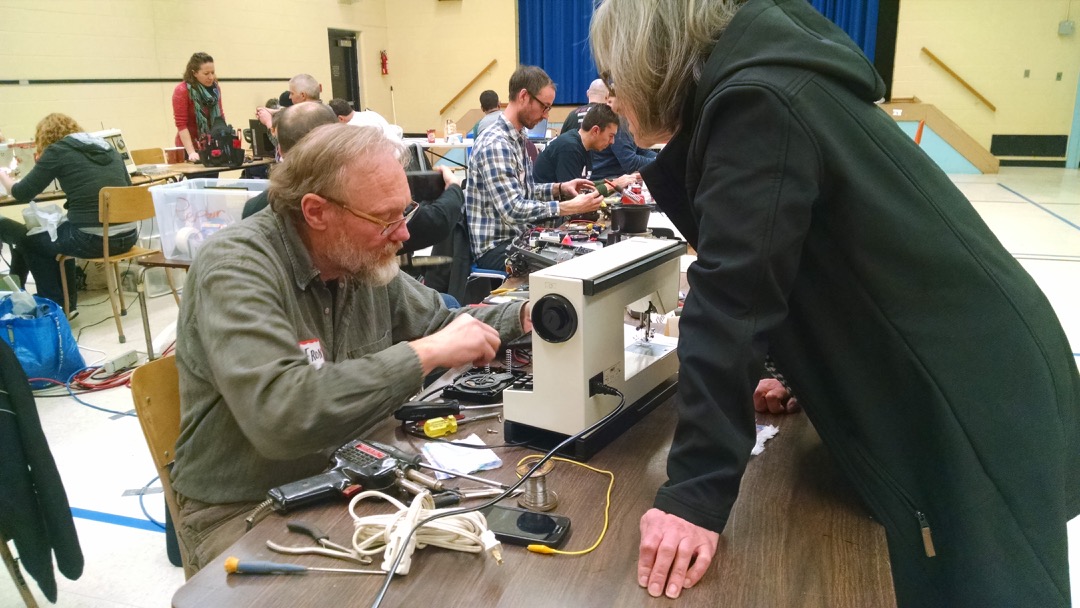 At the Repair Cafés, anyone can have their items looked at and potentially repaired by volunteer fixers. The goals of the RCG are to teach people simple repairs and avoid throwing away items that can be easily repaired. The program has served over 500 people and seen nearly 3,000 kilograms of waste diverted from local landfills.
Stephanie Clarke, who is the Tool Library Coordinator, said, "Sew North was a natural collaboration between the church and the Guelph Tool Library. We have our volunteer fixers from our Repair Cafés and the church has a need to service and tune up a number of sewing machines. The church was also the host of the first ever Repair Café Guelph in August 2016, so we have a history of working together."
The Repair Café Guelph will be returning this August to the church.
John Dennis is a parishioner of St. Matthias and St. James the Apostle Guelph.