By Hollis Hiscock
A young lad has five barley loaves and two small fish, but what are they among so many? This was the reaction from the disciples when Jesus asked how they could feed 5,000 people who had gathered to hear him speak.
It shows how an idea emerges from one person, gets picked up by others and becomes part of a wonder.
This happened to Elbert Doornekamp who lives in Stevensville.
Sitting outside his house in late September reading the current Niagara Anglican and Anglican Journal, cows caught his eye. They were featured in the colourful four page insert, Gifts for Mission, opportunities for sponsors to support people around the world.
He thought, "our church could do something; we should sponsor a cow."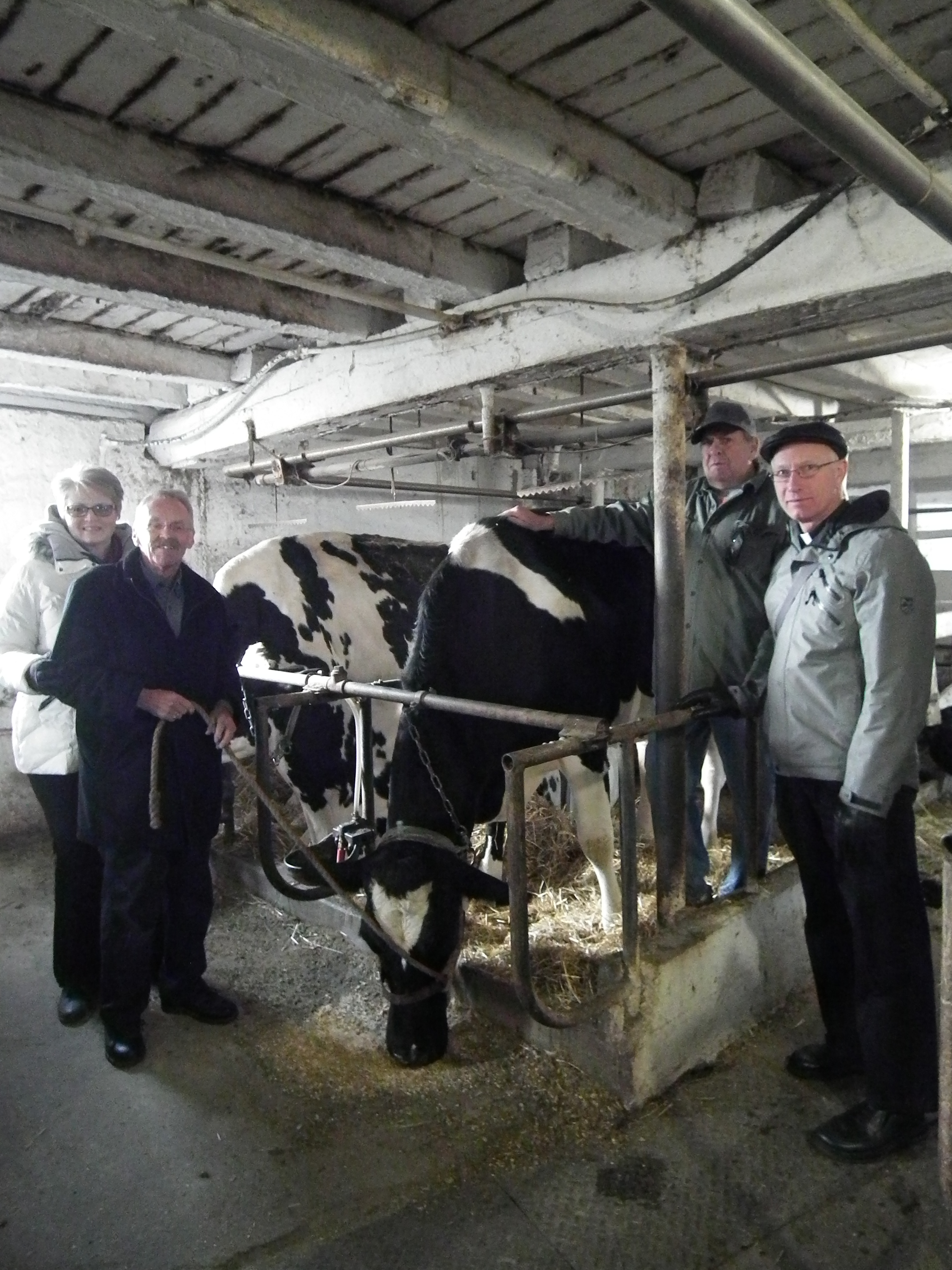 The following Sunday at his parish church, St. John's Ridgemount, he stood to make an announcement. "I have a dream; I think we should adopt a cow to help people in a third world country." Then he described what he had read in Gifts for Mission.
People reacted differently. "Some thought I was crazy," mentioned Elbert.
But Elbert remembered his earlier life in Holland. Born during WWII, he knew what tough times were like. As a boy during the war, he and his friends would encounter German troops in the fields near his home. The soldiers gave them food. "You have no idea how many sandwiches we ate with just sugar and nothing else."
Later when St. John's and St. Paul's Fort Erie held a joint worship service, Elbert once again made his dream pitch. "Here in Canada," he challenged worshippers, "we have a good life; let's try for one, maybe two cows; let's not be greedy."
The challenge was accepted.
As the cut-off date—the first Sunday in November—approached, Elbert waited with great expectation.
"I feel great about it—best thing I have done," was his reaction when he learned 22 people had contributed $720—enough for four cows and two goats.
But the miracle continues.
Cheryl L. Denomy, Donor Relations and Fundraising Coordinator for the Primate's World Relief and Development Fund, through which cows and goats are sponsored, informed us, "I did a little digging and yes, money for the purchase of goats and cows is eligible for the Global Affairs Canada matching dollars, so the donation from St. John's will be matched at a 6:1 ratio."
Elbert's action means that 24 cows and 12 goats will be provided to help people living in Africa.
The Gifts for Mission brochure suggested that the goats "can breed and provide offspring, a source of protein and income to a family living with AIDS." Similarly the cows will "provide nutritious milk for families, income from selling excess milk and fertilizer for crops. In many parts of the world, a cow is wealth."
Gifts for Mission is a joint venture between General Synod of the Anglican Church of Canada and the Primate's World Relief and Development Fund, with every dollar being matched by three, four or six dollars from Global Affairs Canada.