Following the 4:00 p.m. choral evensong on Sunday, April 29th at St. John's Ancaster, Shane Murphy will present an organ recital.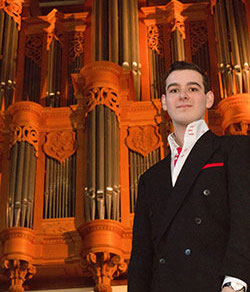 Shane, from Niagara Region, began studying organ 13 years ago at age eleven. While studying with Dr. Christiaan Teeuwsen at Redeemer University College he travelled to the United States for several summer organ programs.
In 2011, he spent three months living just outside of Düsseldorf, Germany, studying early organ music with the Dutch organist and pedagogue, Egbert Schoenmaker.
Shane completed his Bachelor of Music degree in Organ Perfor-mance at McGill University in 2015 and is currently enrolled in the Master of Music program at Southern Methodist University in Dallas, Texas.
St. John's choir is under the direction of Dr. Christiaan Teeuwsen.