The children, youth, and family ministry (CYFM) leader network is celebrating the completion of our largest faith formation box build for Advent! Through the pandemic the network of leaders gathered bi-weekly through Zoom to pray, share creative and innovative ideas, discuss challenges, and brainstorm new initiatives. The largest challenge frequently discussed was finding ways to stay connected to children, youth, and families in parishes as they were not comfortable returning to in person worship.
At the start of the pandemic, two family ministry coordinators, Katherine Kerley and Alison Steele from Lincoln and Brock regions, respectively, joined together to develop Lent faith formation packages for their parish families. The success and positive feedback from this project inspired other members of the CYFM leader network to join the next build for Vacation Bible School. What started off as two parishes working together quickly turned into five parishes that reached further across the diocese into Hamilton-Haldimand and Trafalgar regions.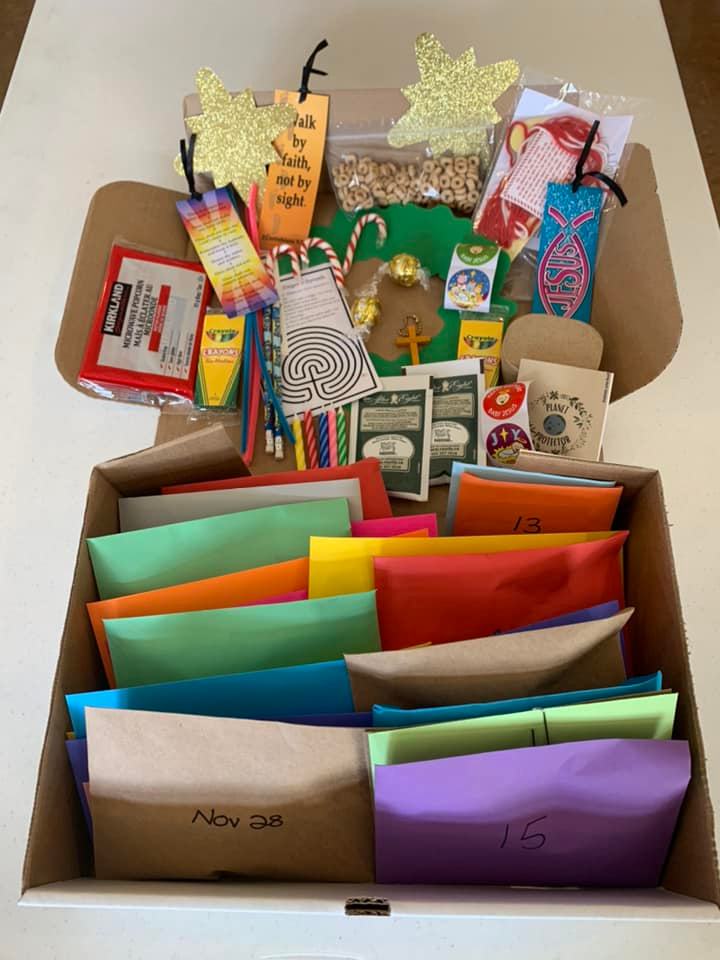 The development of a faith formation box takes an unbelievable amount of time, planning, research, and creative flowing juices. The Advent box that was just delivered across Niagara in December was the largest build to date as the network began planning in May 2021. Once the written materials were completed, a four-day build took place starting in Hamilton at Christ's Church Cathedral and then in St. Catharines at the Church of the Transfiguration with a spirited volunteer team. The box included 28 daily colourful envelopes (starting with Advent 1 Sunday to Christmas Day) that were filled with prayers, Scripture, story cards, crafts, and special treats to help families journey through Advent as they anticipate the birth of Jesus. Once the box was completed, they were then gift wrapped in beautiful Christmas paper so that each family could unwrap their special box. 
The Advent box was delivered to over 200 children some of whom are not affiliated with a parish. This project grew larger than we had anticipated, as 12 parishes were involved in the making and or distribution—a beautiful reminder from God that team ministry is indeed a blessing, and that anything is possible when two or more are gathered. Moving forward the Spirit continues to guide children, youth, and family ministry throughout the diocese. The network of leaders asks for your continued prayers as we continue finding new ways to form faith of the younger generation of our beloved church.