(In May 2017, Jan fulfilled her vision to be a pilgrim and walk the Camino de Santiago. Here we present an edited version of her pilgrimage. To receive a copy of Jan's full Camino story contact her below)
The Camino walk has been a religious pilgrimage for 1,000 years as pilgrims walked one of the paths to St. James' Cathedral in Santiago de Compestela.
I walked the Camino Frances (the French Way), from St. Jean Pied de Port, France, at the foot of the Pyrenees, and along Spain's northern coast to Santiago (Sant Iago — St. James).
I wanted to experience the connection with Jesus, especially with his disciple James, Patron Saint of Spain and Pilgrims.
This was a walk of faith for me on the path that thousands have walked … to slow down, reflect on life and feel gratitude for my many blessings of family, friends, good health and privilege.
Our 20 walkers divided into two groups —  the energetic ones (Sportifs) walked 20+ km and my group (Tranquilo) 12-15 km daily.
Sometimes the Camino was more challenging —  varying weather conditions, mountains, valleys, villages, towns and bleak rugged landscape of the meseta.
I felt weary with sore feet and minor blisters, but my senses were awakened by the beauty and serenity of the countryside, fragrant wild flowers and newly cultivated fields; I steadily put one foot in front of the other.
It is more than a walk. Camino provides time for prayer, reflection and silence, but also for camaraderie with like-minded companions. We developed a friendly community — walking, eating, talking and laughing.
Camino included physical activity and emotional experiences. I felt close to God being immersed in nature on this sacred walk. Taking time from the busy-ness of my life at home was welcome. I enjoyed the fellowship and fun, especially greeting others with the traditional pilgrim's Buen Camino (Have a good Camino).
Being physically active in nature made me feel joyful and content, being grateful for my energy and stamina that allowed me to explore a new country and culture; it took me out of my comfort zone.
While walking along cobble-stoned streets in Puente la Reine (Queen's Bridge), I felt a sense of the faith and endurance of early pilgrims who risked hazards and challenges that don't confront today's traveller.
Our guides called us Gucci Pilgrims, because we had bus support, pub/cafe lunches and stayed in fine accommodations, often Paradores, which are historic buildings turned into hotels.
I became aware of recent and medieval history. In Leon, the Hostal de San Marcos, now a Paradore, was a concentration camp/prison during the Spanish Civil War. On Mount Irago, the Iron Cross (Cruz de Ferro) monument is where the earliest pilgrims prayed and placed a stone which they carried from home as penance. This 14th century tradition continues.
Many pilgrims attach the scallop shell, the symbol of the Camino, to their backpacks. The scallop's indented lines converge into a point, like how all Camino routes lead to their sole destination, Santiago.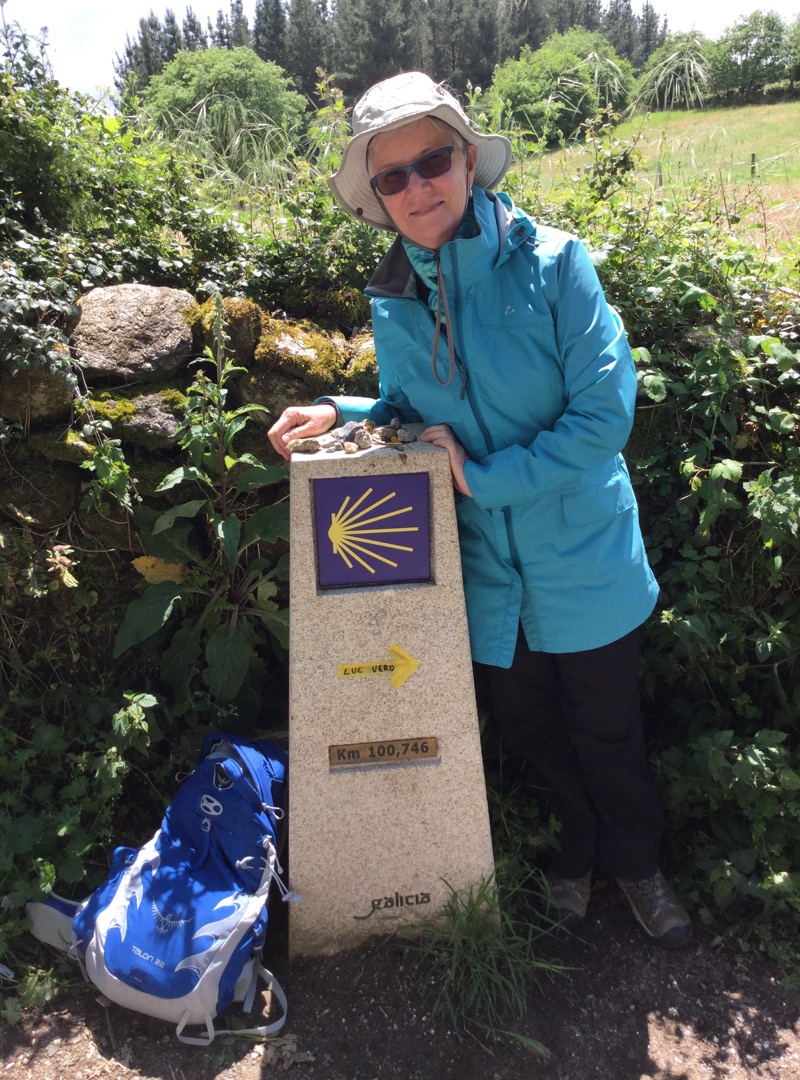 Entering Santiago, we attended the noon Pilgrims' Mass in St. James' Cathedral with about 1,000 pilgrims. Six burgundy-robed attendants (tiraboleiros) swung a huge silver incense burner (botafumeiro) —  four feet tall and 166 pounds — into the Cathedral's cavernous transept, swooping it low over our heads.
It was awe-inspiring! I felt connected to the thousands who have walked, biked or ridden horseback on the ancient spiritual Camino to the Cathedral, where St. James' bones are laid.
After one day in Santiago, we took a bus to Finisterre on the Atlantic Ocean, thought to be the end of the earth in Medieval times (finis — end, terre — earth).
My pilgrimage was enjoyable, making new friends, seeing picturesque towns and villages, visiting churches and monasteries and feeling the long history of pilgrims walking the Camino.
For me, my experience was a "Buen Camino"!
Jan Pearce, a retired Occupational Health Nurse, is a member of St. Christopher's Burlington.