Greg, appointed by Bishop Michael at the November 2016 synod, was installed on March 19, 2017.
Since having a Vice-Chancellor is relatively new for Niagara Diocese and being Vice-Chancellor is certainly new for Greg, the Niagara Anglican decided to engage him in conversation.
Niagara Anglican (NA): Tell us about yourself.
Greg Tweney (GT): I have a strong connection to Niagara Diocese, geographically. I was born in Hamilton, spent my childhood in Niagara Falls and grew up in Stevensville. My immediate family still lives in the St. Catharines/Thorold area. As for my own family, I am married, have two teenage daughters and live in Oakville.
NA: Briefly describe your education and work journey.
GT: I attended Ridgeway Crystal Beach High School and studied Public Administration at Carleton University in Ottawa. I studied law at Osgoode Hall Law School Toronto, spent a summer working as a provincial prosecutor in St. Catharines and later articled at the Crown Law Office —Criminal in Toronto.
I was called to the bar in 1998 and joined the Crown Law Office as Crown Counsel.
My primary responsibilities involve representing the Crown in criminal appeals before the Ontario Court of Appeal and Supreme Court of Canada.
Several years ago, I became a Deputy Director, so my role shifted to include more supervisory and managerial duties, although I go to court occasionally.
NA: What about your faith history?
GT: Although not raised an Anglican, I was raised in the Christian faith. My father was a Baptist Minister before becoming a teacher, and both my parents were active in the church their entire lives.
My introduction to Anglicanism was through All Saints Ridgeway during my high school years. After completing my education and settling in Oakville, I joined St. Simon's parish.
For the past five years, we have been members of St. Elizabeth's Burlington, where I have been Churchwarden for the past three years.
NA: What do you do to relax?
GT: I play hockey in a recreational men's league and play drums.
NA: Has being a Churchwarden prepared you for your new appointment?
GT: It's been an interesting and challenging role since our parish is going through a period of transition and discernment. Our long-time rector moved and with an interim rector we are exploring options for sustainable ministry in south-east Burlington. My focus has been on the operational and development needs of a small parish.
NA: How do you perceive your role as Vice-Chancellor?
GT: When the Bishop approached me, I saw the opportunity to broaden my experience with the work of the Diocese. I have already learned a great deal about the important work being done, and the common challenges being faced by parishes.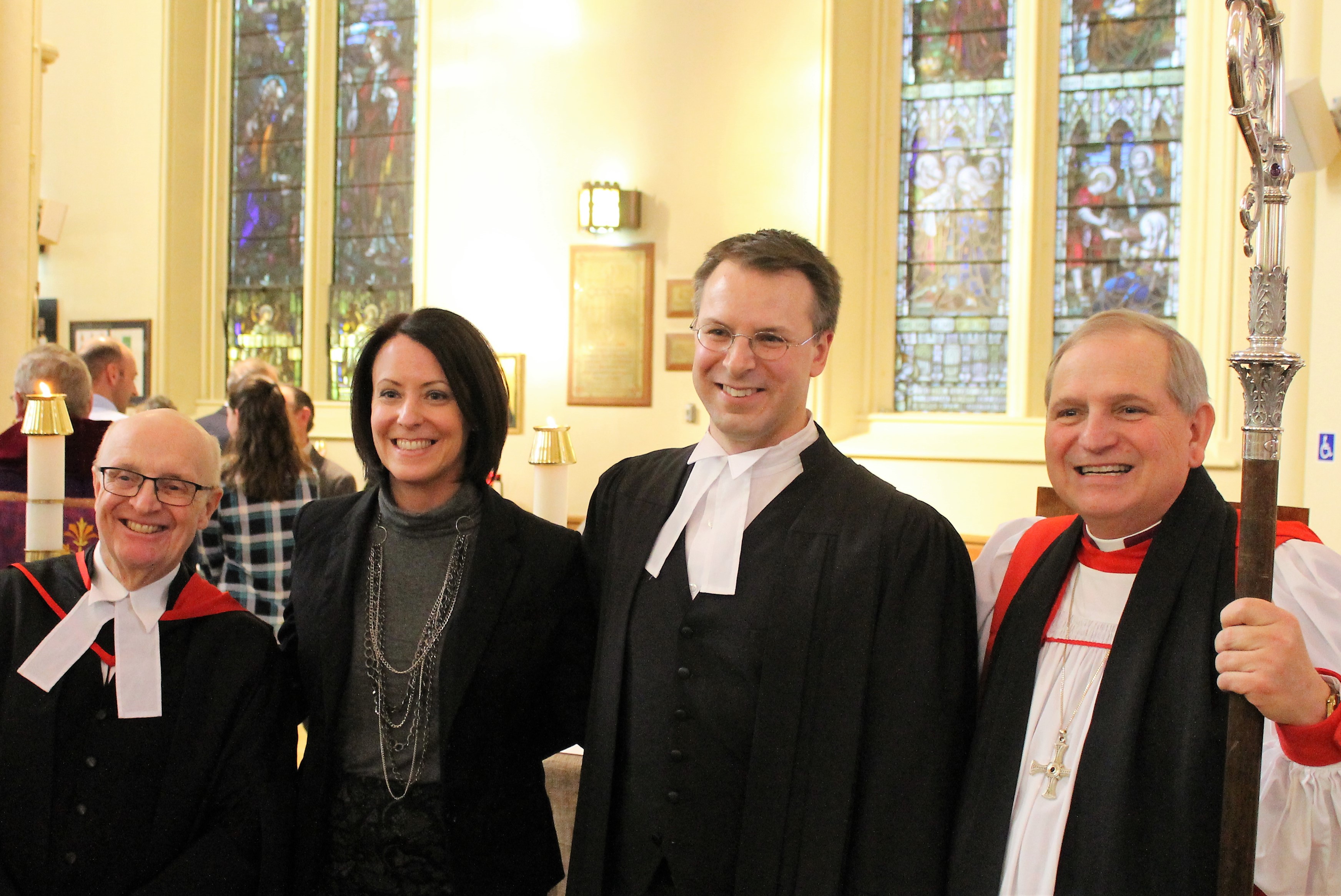 My role includes assisting the Bishop and Chancellor with the interpretation and application of the Canons. As a lawyer who spent nearly 20 years interpreting statutes and case law, I am excited by the opportunity to apply those skills to the laws of the church.
NA: How do you approach your new ministry?
GT: In both my professional and church life, my greatest joy comes from meeting and helping people. Being Vice-Chancellor gives me the chance to continue doing just that—in my own community and across the Diocese, including places I've called home at various points in my life.
NA: What talents and experiences do you bring?
GT: It is difficult to answer this question without feeling like I am "tooting my own horn"! I meet the minimum requirement imposed by the Canons—being a member of the Ontario bar for over 10 years. My legal training and experience should be an asset. I am accustomed to working with people individually and in groups. I have also done a lot of teaching—judges, lawyers, law students and police—which builds one's communication skills. I like problem-solving and exploring creative solutions to help achieve common goals.
NA: How do your faith and profession intertwine?
GT: I think my study of the law was informed by values instilled in me as a child growing up in the church: basic principles like morality, justice and fairness are rooted in Biblical teachings.
After practicing law for many years, especially as a criminal lawyer, I find many of those same values inform my approach to the law as an adult.
Simply put, my faith informs my vocation, but my professional life also informs how I live my faith.
As a prosecutor, my decisions are guided by the need to act in the public interest.
This same broad perspective will hopefully be a useful guidepost in my role as Vice-Chancellor and steward of the laws of our church.
NA: Every blessing in your new ministry.