Editor's Note: The June 2022 issue highlights the three ecumenical chaplaincies supported by the Diocese of Niagara at Brock University, McMaster University, and the University of Guelph. This piece is one of three in the series, entitled "Spiritual Care for the Inquiring Mind: Spotlight on Our Ecumenical Chaplancies". Our contributors highlight the challenges—and blessings—of student ministry during the pandemic. Click here for more information on these chaplaincies and ways for you to support them.
When I am asked if chaplaincy has struggled with sustainability issues in a place of higher learning over the past two years (i.e., through the pandemic), the short answer is, yes!
Insofar as local communities of faith (and generous individuals) have had their financials impacted by the pandemic, inevitably chaplaincies at universities like McMaster, where "I live and love and have my being," are affected.
When asked if the work of spiritual care at a university has been dampened or deterred or deemed "unessential" as a result of the pandemic, my answer is equally simple: "I have not been wanting for work, in the least!"
Sustainability impacted? Yes! Spiritually impactful? Yes!
Requests for one-to-one appointments, desire for programing that is simple but meaningful, and appeals—despite covid restrictions—to be of service in the community are all on the increase within our Chaplaincy Centre, in both volume and events, whether in-person or online.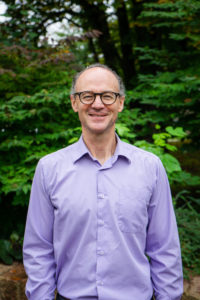 As a place of spiritual care (a place where inclusion, non-judgmentalism, and holistic compassion are the standard), the values we say we believed in before the pandemic have only been reinforced as a result of the pandemic.
The kinds of principles to which I refer range anywhere from "wherever two or three are gathered," the Spirit is in our midst; to the belief that the Spirit is not confined by distancing (especially when the coldness of a computer can, instead, become an instrument of grace); to risking (while still respecting safety) what it means to demonstrate solidarity with brothers and sisters who testify that the pandemic has not caused systemic injustice, but rather the pandemic has revealed long-standing systemic injustice.
At McMaster, our chaplaincy has not only continued to be ecumenical, welcoming and allying with any and all we can, but we have also aspired to be egalitarian—socially conscious of the need to be reminded that the essence of our existence, and co-existence, is love.
What's more, if this were not our attitude and outlook, then not only would we be minimizing the integrity of the gospel, but we would be dismissive of the dignity of all people with whom we say we want to enter into authentic relationships.
One of my favourite moments (that I live for) in any program we offer, but especially our weekly "soup and selah" (where we serve hot vegan, kosher, and halal soup made from vegetables produced in local community gardens in the middle of the busiest square on campus, in the middle of the day, in the middle of the week) is when a student actually pauses to say "thank you"—or better still, asks, "So why are you doing this?"
In the question, never mind the answer, is the stuff of curiosity, yes; but also, the desire to discover that there is genuine, no-strings-attached care in this world that isn't naïve about injustice, nor in denial about life's complexities, and says by its very presence that love is always better than selfishness and indifference.
The secret to spiritual care in an institution of higher learning is not gimmicks or out-thinking young adults. It is actually caring about what you are doing, and why—which in turn allows the young people around you to take care of themselves (and others) and know why.
If spiritual care is not about this, then it is not about anything.
Love in the time of a pandemic is the same as love at any other time. Except the gift of a pandemic (or any crisis) is the recognition that nothing matters more than love.
You can stay up-to-date with the activities of the McMaster Chaplaincy Centre on Instagram, Facebook, and YouTube.