Desmond Tutu and I studied at King's College London at the same time, 1962–1965, and, so far as I know, we are the only two members of our year who were later elected as fellows of the college. I have, therefore, followed his progress in life with great interest and was able to call on him to help once in my work at McMaster. It is also appropriate to recognize the work of the Anglican church in bringing down apartheid.
King's College had seven faculties when we attended, one of which was the Theological Faculty, the largest institution for the training of postulants for the Church of England. The Church of England had for many years provided support for the Anglican church in South Africa, and so Desmond was one of two young men I knew who came from there to King's. 
Desmond was already married and ordained, so I often received elements of the Eucharist from him in the college chapel. Each Wednesday, there was a Eucharist service for students and afterwards there was a communal breakfast. My memory of Desmond was of a person who was always laughing with a large group of other "theologs" at breakfast. He exuded joy. In my final year I was secretary of the students' union and Desmond attended general meetings, so we knew each other, but I cannot claim to have been a friend.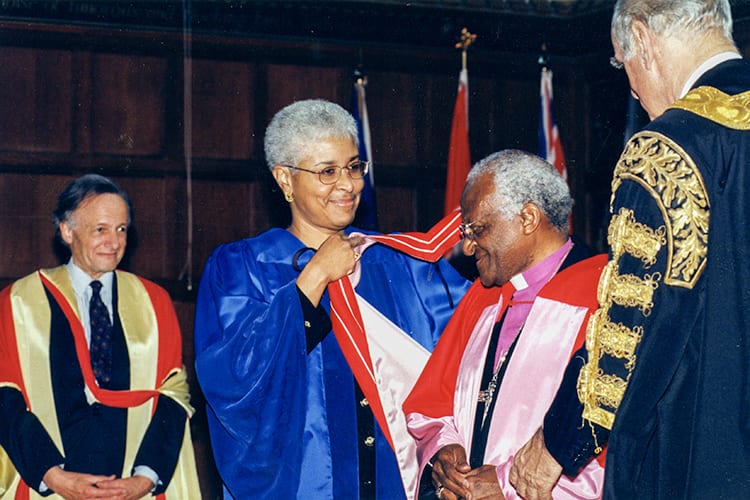 On two occasions I have read of speeches in which Desmond spoke of one of the most profound experiences after he came to London. On the first Saturday evening, he and his wife walked to Trafalgar Square where, of course, large crowds were gathered and people were happily socializing. At the timeback in his home country, people of colour could not assemble in crowds, nor would gatherings be happily socializing. This emphasized the difference between life in South Africa and the freedom one could experience elsewhere. 
Desmond obtained both an undergraduate and master's degree. After he returned to South Africa, I saw in our alumni news of his appointment some years later as dean of the cathedral in Johannesburg and later bishop. I also read about his increasing role in speaking out against the system of apartheid.
In the 1980s, McMaster University decided to establish two scholarships, one undergraduate and one graduate, to allow students from South Africa to study at McMaster, and, as University Registrar, I was charged with the task of finding the undergraduate student. The only potential contact I had in South Africa was Desmond, and so I wrote to him. I received the warmest of replies, and I believe that he called the scholarship a gift from God. He explained that he was associated with a foundation that worked to place South Africans of colour in university education abroad, and so my challenge was solved by his response.
When I worked at The American University in Cairo, the President was Dr. John Gerhart, who had served as the Ford Foundation representative in South Africa. His wife, Gail, was an eminent scholar and professor, whose specialty was political science of African nations. In December 2000, Jeni and I went to South Africa and attended the late Christmas Eve service in Cape Town cathedral. The dean of the cathedral, Rowan Smith, and I had worked together in the Union Society many years earlier and we had a brief time to chat before and after the service. The Cape Town cathedral has the dimensions of the grandest of British cathedrals, but it was packed with people of different colors. Those of us in seats passed kneelers to those in the aisles, people sat on window ledges and large chairs were occupied by two or three people. Never have either Jeni or I experienced anything like it.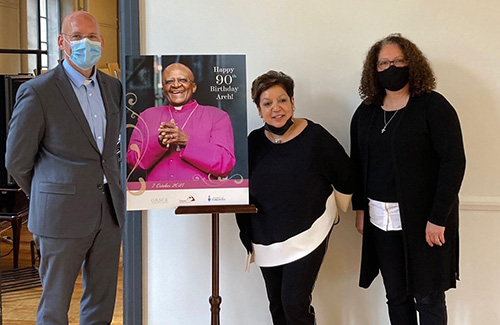 When we returned to Cairo, John suggested that we all have dinner, because John wanted to hear about our trip and especially about the birds we had seen. We told John and Gail about our experience in the cathedral, and they explained the role of the Anglican church in bringing apartheid to an end. They knew most of those who had led the fight and were mainly members of the Anglican church, which was a church that spoke out through leaders like Desmond. Despite his experiences of discrimination and worse, he maintained humor and preached forgiveness. He chaired the Truth and Reconciliation Commission, and much credit goes to him and other leaders for the peaceful transition from apartheid, when things could have gone badly wrong. 
I continue to be amazed by how the jovial, but modest, young man grew into such a force for good and gained the fortitude to speak truth to power.
Sandy Darling is a member of Christ's Church Cathedral.