by Douglas Crosbie
From the time she was just a little girl, Sheila FitzGerald, the much-loved and younger sister of my wife Nancy, was a huge baseball fan. She was also a compassionate champion of the underprivileged, especially racial minorities.
Growing up in Ottawa in the 40's and 50's, she idolized Jackie Robinson as a player and a person. She had heard and read stories about this remarkable ball player who had made history, first with the Montreal Royals, and then as the first African American to break the MLB colour barrier in 1947 when he was promoted to the Brooklyn Dodgers.
She desperately wanted to see him play in person and begged her father to take her to see Jackie play in Ebbets Field, Brooklyn, N.Y., the then home of the Dodgers. Her Dad finally caved in and, equipped with her Brownie camera, several rolls of film and autograph books, 12 year old Sheila captured not only many pictures of Jackie playing in that game, but also his autograph and that of many of his team-mates. She wrote him a fan letter at the beginning of spring training in 1955 and Jackie personally replied on Dodger stationery, very courteously thanking her for her support.
Jackie's career in MLB was relatively short; he retired in 1956 at age 37 having played for just eight years in the "bigs." Not only did Jackie break the "colour barrier", but wearing #42 he was one of the greatest players of all time: 1947 MLB Rookie of the Year, National League MVP and batting champ in 1949 , six consecutive years as an MLB all-star and he played in the World Series six times. He was voted into the Baseball Hall of Fame in his first year of eligibility. Such was his reputation that in 2004, Major League Baseball established Jackie Robinson Day, an event that is celebrated by all Major League team players on every April 15th. On that one day, all players, coaches and managers on both teams, and the umpires, wore #42 on their jerseys.
After Jackie retired, he became the first African-American to become a vice-president of an American corporation—Chock full o'Nuts, a major coffee supplier.
Around that time many Canadian cities were in a quandary as to how to respond to citizens' requests for professional sports on Sundays. Canada's Lord's Day Act, established in 1906, was still in place, but our country's demographics, interests and values, particularly after World War II, had changed dramatically. Local, provincial and federal governments needed to respond to this.
Sheila, who attended Sunday School at Trinity Anglican Church in Ottawa, was asked by her Sunday school teacher to write a letter to her friend, Jackie Robinson, and ask his opinion about professional Sunday sports.
Dutifully, Sheila wrote the letter. Jackie replied to her question about Sunday sports almost immediately with a handwritten letter on Chock full o'Nuts stationery.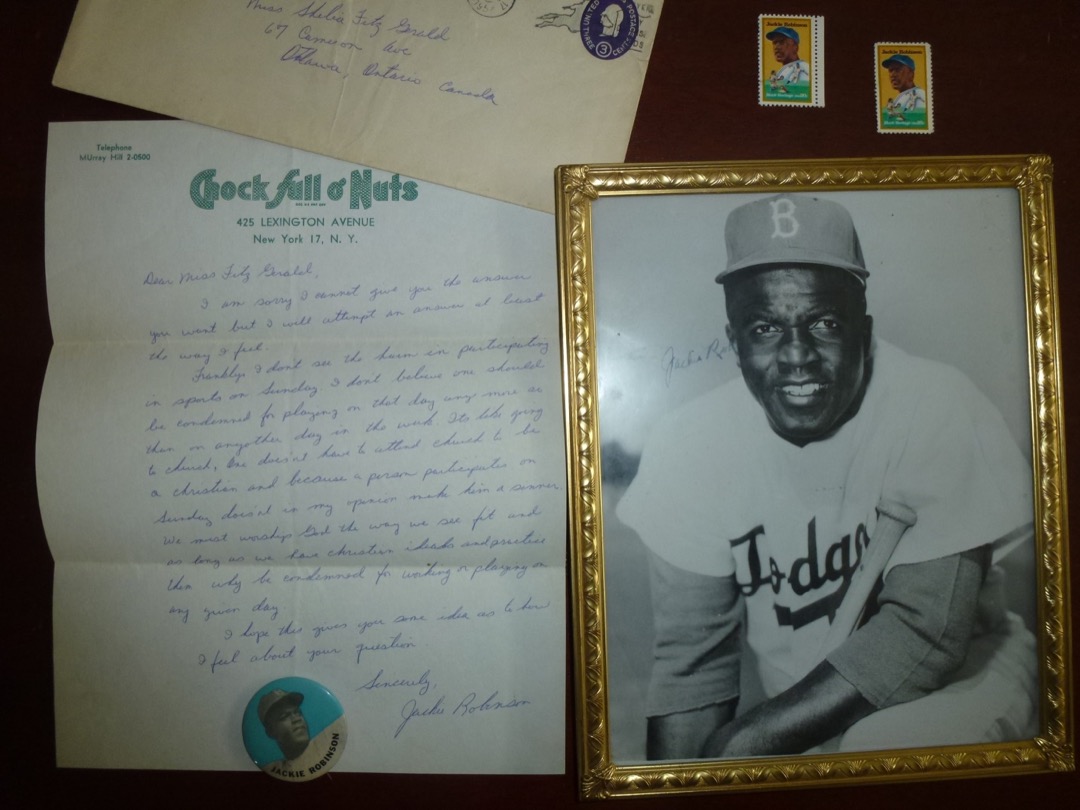 To Sheila, the most important paragraph in his letter was, "We must worship God the way we see fit and as long as we have Christian values and priorities then why be condemned for working or playing on any given day."
Sheila believed that what Jackie was really saying was, "even God would enjoy watching a ball game on a Sunday afternoon."
We're all pretty sure that Sheila's letter to Jackie and his subsequent response was not the reason Canada eventually legalized Sunday sports. But Sheila was always pleased that perhaps she had had a small hand in enabling God and many Canadians to enjoy a ball game on His day of rest.
Douglas Crosbie is a member of St. James Dundas.