In fall 2021, the Diocese of Niagara formed a partnership with the Diocese of Moosonee to welcome participants in the former Moosonee School of Ministry, now the Bishop Thomas Corston School of Ministry (BTCSM), to join with participants in the Niagara School for Missional Leadership (NSML) to engage in missional learning together. In this special feature, the principal of the BTCSM, Canon Diane Hilpert-Mcilroy, shares about her journey in ministry and the path toward our dioceses partnering together. — Editor
I am a cradle Anglican raised in the beautiful, little St. George's Anglican Church in Harriston, Ontario, which at that time was part of the Diocese of Niagara. Over the course of St. George's history, three people have become clergy.
When I became an adult, I was active in the church and the community in which I was living, especially in the interests of my three children. In 2003 I was at a Bible study at St. George's when the leader called me aside and asked me to consider answering the call God had placed on my life.
I spent some time in prayer and at silent retreats, and eventually went back to school, graduating from Huron University College with a Master of Divinity. Prior to that I had served in many ministries in the church, even as a lay leader conducting services in a seven-point charge under the supervision of three priests! When I started seminary, I was placed with Canon France Ouimet-Wilson in a two-point charge of Christ Church Ayr and St. George's New Hamburg.
During my time in seminary, I continually prayed that God would send me north and near water. I was thinking the Georgian Bay area, but no—God sent me to Lake Superior. Bishop Ron Ferris invited me to interview for St. Mary's Anglican Church in Nipigon, on the very northern tip of the north shore of Superior. North and water—God truly answered my prayer when I was asked to stay for three years.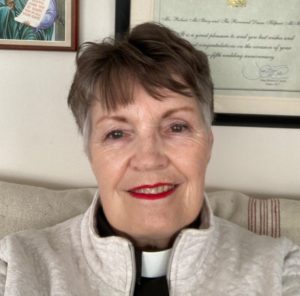 Three years soon turned into twelve. It was a wonderful parish, a one-point charge. It was an old ministry, but a brand-new building. The weekend I interviewed they didn't even have the stalls in the washroom yet! There was no landscaping, chairs instead of pews, and a huge mortgage. What was I thinking? I needn't have worried because the Holy Spirit was present. The church grew and the mortgage shrunk to zero. The rectory was beside the church and was less than a block from the marina. I could see the lake from the bedroom and bathroom windows.
After 12 years, my husband Robert and I retired from ministry in June 2019. We loved the north, however our children all lived in southern Ontario. We retired to the town of Listowel. I was asked to do supply work at some churches here in 2019 and 2020. Then the global pandemic hit. With churches closed, no one needed a supply preacher.
After a few months of lockdown, I began to question what God might be asking of me. Early one morning, I prayed that God would reveal the plans he had for me. That very evening, I received an email from Archbishop Anne Germond asking me to prayerfully consider the position of mentoring in the Diocese of Moosonee.
Archbishop Germond and assisting Archbishop Fred Hiltz were looking for a new and inventive way of engaging their clergy in continued learning. I was invited to mentor the clergy who had graduated from the Moosonee School of Ministry and be a spiritual support and confidant to the other clergy in the diocese. There wasn't a ministry description per se, but mentoring newer clergy in preaching, liturgy, and Anglicanism was the focus.
I was confident this was going to be a huge learning curve for me. The first item on that learning list was conquering technology. Thankfully, Zoom is easy and after sending out a Zoom invitation with the wrong date, I learned to connect with clergy all over Moosonee. I soon learned that preaching and teaching have some common denominators, but they are distinctly different. The graduated clergy from the original Moosonee School of Ministry participated in weekly Zoom sessions. There were also daily phone conversations, emails, and texts with all the clergy.
At the beginning of my ministry in Moosonee, Bishop Tom Corston generously shared much of the work he had done. His heart was very much in Moosonee with the land and people he loved so much. It was an obvious decision to rename the Moosonee School of Ministry to the Bishop Thomas Corston School of Ministry in Moosonee after Bishop Tom's untimely death.
Our Zoom sessions usually have six to eight people in attendance. Seeing one another regularly on Zoom has helped to build strong relationships. We came from different locations, we had various life experiences and culture differences, but that did not matter. We grew to trust and depend upon each other; conversations and encouragements were part of our daily lives. We shared worship and sermon resources, and many ministry concerns. Learning is a two-way street and I learned as much as I taught.
For generations education has played an important role in the world and most especially in the church. Certainly, this time of pandemic has taught us that we need to be adaptable, having the skills and wisdom to shift into new ways of being church as we preach and teach. Education is extremely valuable for clergy and for laity as we seek to reconcile past mistakes, sins, and burdens that I believe continue to be placed upon our indigenous brothers and sisters. We have much to learn from indigenous peoples.
When we heard about the Niagara School for Missional Leadership, it was as if God answered my prayers again. The courses the NSML offers are aligned with the needs of the church and are such a tremendous support for fostering knowledge and growth in clergy and lay people. I am deeply grateful for the Christ-like welcome Moosonee has received from Niagara. I pray this will be a recurring program for training all our clergy and continuing to inspire more lay people to register for training in lay ministry.