If you asked me two years ago if I knew what the table was, I would tell you it's an object with a flat surface and four legs to hold it up.
Like everyone else, in March of 2020 my life changed. I was limited to my work and home life and was not able to see any of my family members or friends. One evening I was scrolling on social media and saw a few old friends from my youth ministry days post about this event on Zoom called "The Table" that was happening that evening at 7:00 p.m., welcoming anyone to join who was 19 or older.
A little back story: I have not been involved with any church in a long time. Just my usual holiday showings. School, work, and some medical issues I faced stopped me from attending church on a regular basis.
That night I thought to myself: I have nothing better to do and it would be nice to see some familiar faces that I have not seen in over 10 years. When I logged onto The Table's Zoom meeting, I did not know what to expect. I sat on the couch quietly listening to people share stories of how their week was going, whether they had struggles that they were facing, or moments of celebration and happiness. Right away I could tell that it was a safe space that made everyone comfortable to share.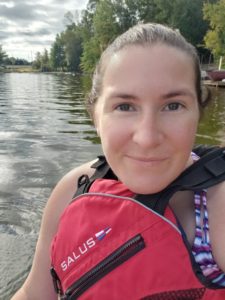 During the first few months of the pandemic, we met every Thursday at 7:00 p.m. We would start off with a check-in, and then have discussions based on major events that were unfolding currently in the world, or ask random questions that were pulled from a cute little pottery bowl, called "the bowl of questions". These questions helped change the subject matter or shift us into a new direction if we found ourselves going down a rabbit-hole of thought. The conversations that came out of the topics were so intriguing. Being able to hear from different ways of thinking was refreshing! The Table community quickly became a second family for me. It allowed me to reconnect with God and put more faith back into my life—especially after experiencing a traumatic event in 2019 that put major strain on my faith and relationship with God.
Once summer 2020 hit, it was decided that we would return in the fall with the regular schedule of meeting every third Thursday of the month. We kept the meetings on Zoom to follow all COVID-19 protocols and help to eliminate transportation barriers. The Table community also established an ongoing group chat where members could ask for prayer requests and stay further connected. Some members messaged the group everyday saying, "Have a good day everyone!" That is how close this group of people have become.
So, what is "The Table"? The best way to describe it to you is exactly how I described it at the beginning, with just a few more additions. The flat surface is the open conversation that can be had every time this amazing group of people gathers. Anything can go on the table to be shared without fear of being judged. As for the legs, I would like to think of them as the support all members give one another, not just four, but an endless amount, as The Table is always willing to expand.
If you are a young adult who is looking for deep conversation about life, spirituality, and complexity of our world, join us on the third Thursday of each month. We will always make room for one more!