"When you pass through the waters, I will be with you; and when you pass through the rivers, they will not sweep over you." (Isaiah 43:2)
Climate Change suggests frightening images of floods … but we can all do something to lessen the impact. A Rain Garden is just one way to make a difference.
I have thought about creating a rain garden at our home for years, but I did not know where to begin. How would I design it; what kinds of plants would do best and what would work best for our native insects and animals? Green Venture, an independent, nonprofit charitable organization based in Hamilton, helped me to solve all of that.
I learned in mid-August that they had received a grant to assist in the construction of a rain garden in Ward 1, where I live. This included the advice of a Rain Coach and a grant of up to $500.00 towards the cost of materials for the project.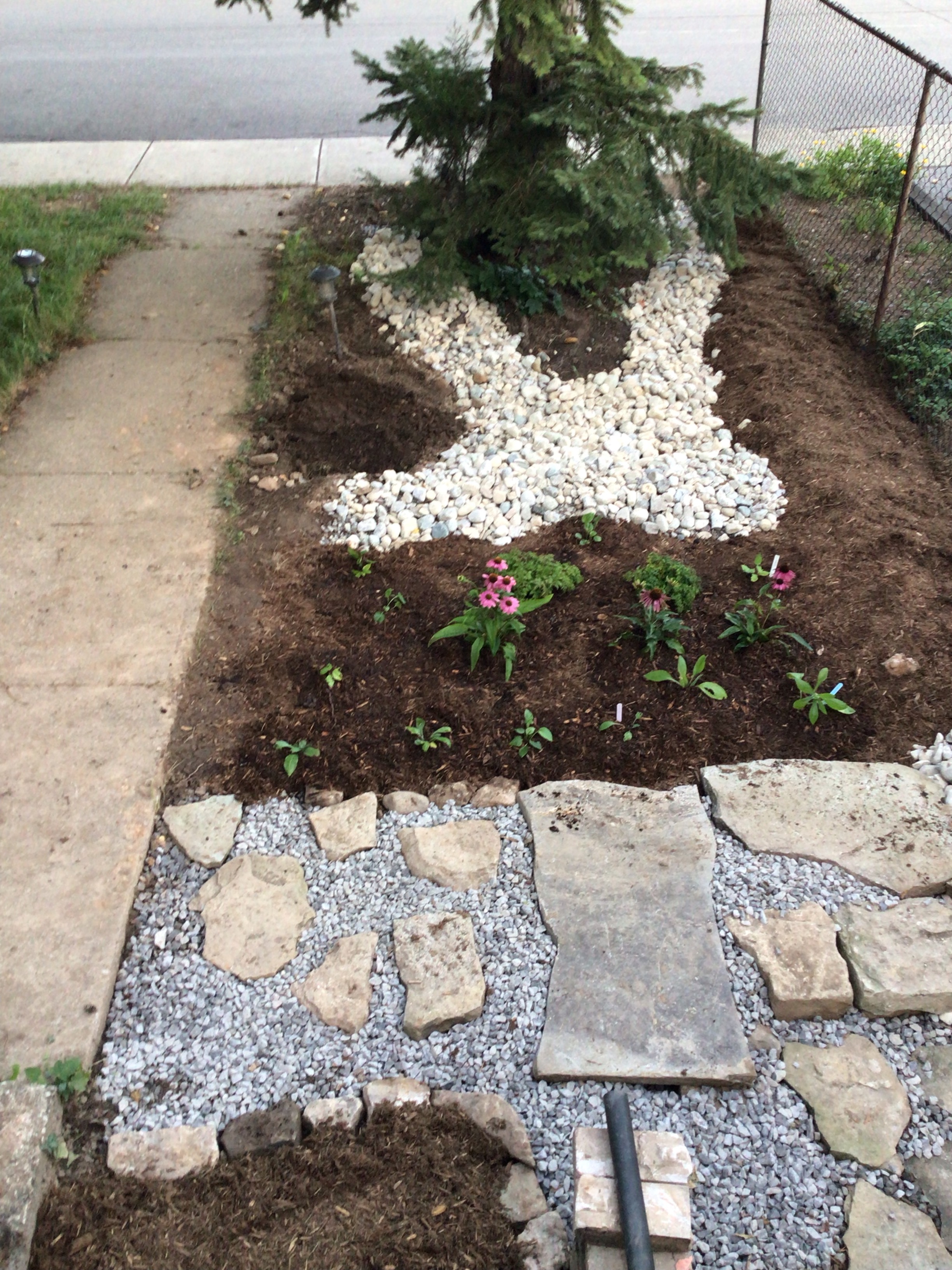 The rain coach made the project feasible and understandable. He took one look at our property, which is large at the front and small at the back, and said, "I think that you should put your rain garden right here." This was on a small plot of land that I had previously not considered. It was also closest to three potential sources of water: the eavestrough for the front of our house; a pipe from the sump pump that seldom runs; and ground water runoff from the side of the house.
Most of my technical questions were explained by the rain coach. However, I owe a large debt of gratitude to Michael Albanese for his short book The Modern Rain Garden: Scrape, Shape and Plant. This book answered nearly all my questions. Its short length made it possible to give it a careful reading in a few hours and the ability to make personal notes of the different steps required.
A well-designed rain garden is a beautiful thing. It channels the water from your eavestroughs or other hard surfaces into fertile, absorbent soil that holds the moisture and gradually releases it into the water table. As the water works its way through the different layers of mulch and soil, it is purified before gradually percolating deep into the water table.
Water that flows into the street, in contrast, picks up contaminants from animal feces, automotive oils, and toxins. It is piped, at a great waste of energy, many kilometres to the treatment plant.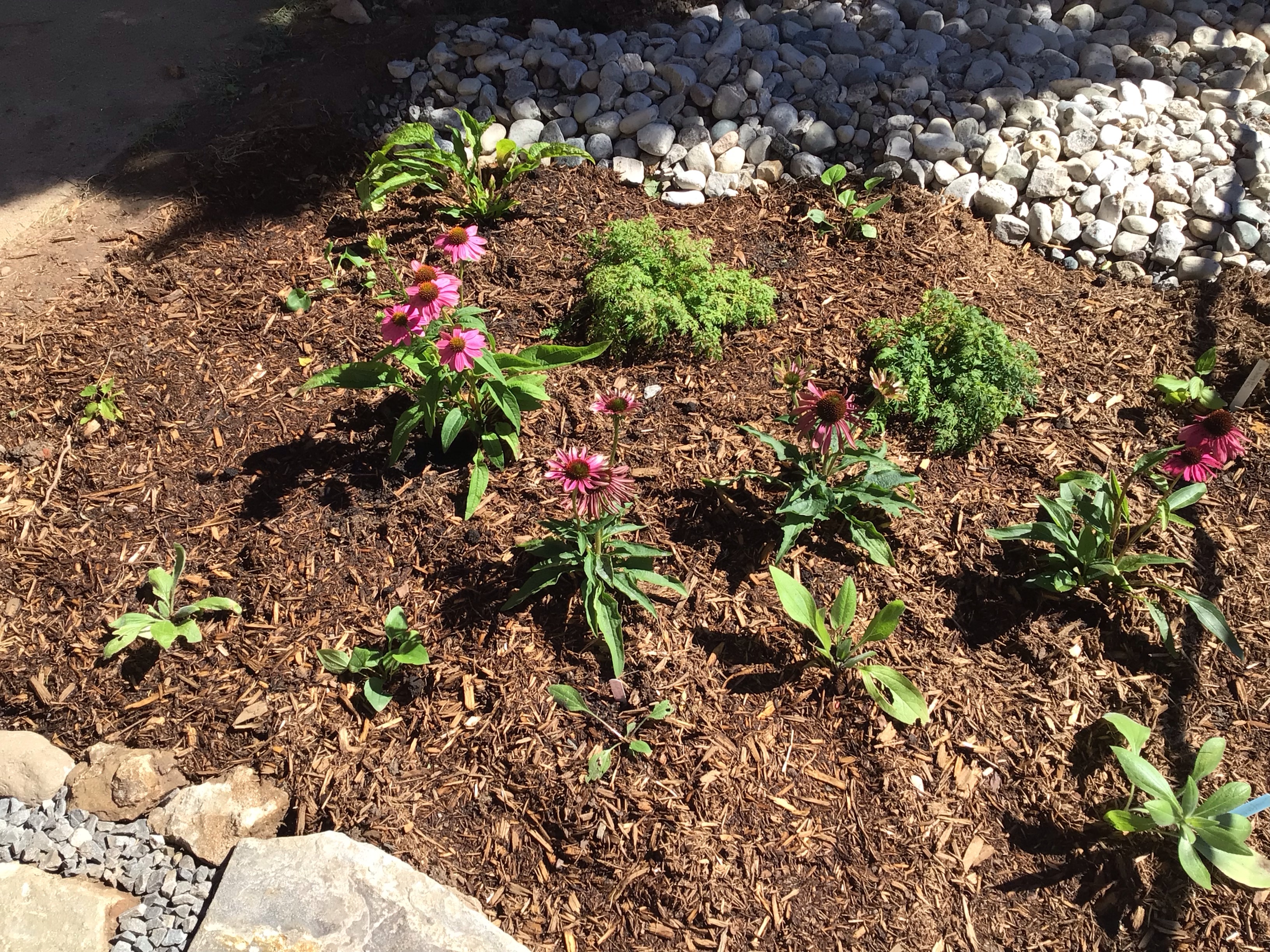 In our ward, intense rains worsened by climate change have resulted in the Public Works Department leaving open an overflow drain directly into Cootes Paradise to help prevent sewer back-ups into residences. This is a matter of great concern to me. This means that there is more variety of vegetation and animal species than elsewhere in Canada that are at risk. 
If every homeowner with a bit of property to spare could disconnect their eavestroughs and have their rainwater discharged into a well-designed rain rain garden, discharges of untreated sewage into lakes and rivers might become a thing of the past.
I love my new garden with its new stone path that leads to our back yard; the small bed with native flowers that attract insects, animals, and pollinators and the outlet for overflow that feeds the roots of our fir tree. 
If you are interested in having your own rain garden, I suggest that you buy the book, The Modern Rain Garden by Michael Albanese.
Norman is a member of St. John the Evangelist in Hamilton and a Climate Justice Niagara team member.