This is the first installment of a special series
Members of the Anti-racism Working Group will be sharing reflections about their perspectives on the group's work over the next several months. The sixteen participants, invited by the bishop to join a team charged with making recommendations that would help the diocese of Niagara become more just, diverse, inclusive and equitable, are a mix of ethnic backgrounds, geography, gender and age. The Rev. Naomi Kabugi chairs our gatherings with the Venerable Val Kerr serving as chaplain while I provide staff support for this work. 
Of course, we all come with unique stories about our experience with racism. Some of us are immigrants moving in and out of language and cultural differences with greater and lesser ease. Those of us who are first generation Canadians have one foot in the culture created by our parents' stories and expectations, and the other in the Canadian culture in which we were raised. And some of us don't know our ethnic background and feel like we have the option to pick and choose a cultural identity. Some of us come from countries where no one is referred to by their colour, and some of us live in contexts where we are always described by our colour. Each of us, we hear, carries some confidence in our identity and place coupled with an insecurity about where we and others belong.
There are some among us who had hoped to move quickly to action … to change … to transformation, but it was clear from the first tentative sharing of our stories that we needed to take a step back from tasks to embrace being present to each other. We saw how difficult it was for our group to find language in which to tell our stories … language that didn't step on toes, that didn't trigger hurt or anger, and language upon which we all agreed to describe our experiences. For some, anger about the naiveté of others about our racist culture was a barrier. For others, the defensiveness coming from guilt and shame kept us from being vulnerable. 
So we've begun to develop expectations for our group interactions. We're committing to working from the belief that we're all speaking from good intentions, and we've agreed to respond with grace when one of us unintentionally hurts or triggers another. We're promising to take risks and be honest about our thoughts, feelings and opinions recognizing that the dialogue will be limited if we don't share our authentic selves with one another. We have agreed to dwell in discomfort at times knowing that talking about racism and inequity shifts the ground beneath our feet. We live in trust that out of dis-ease will come growth.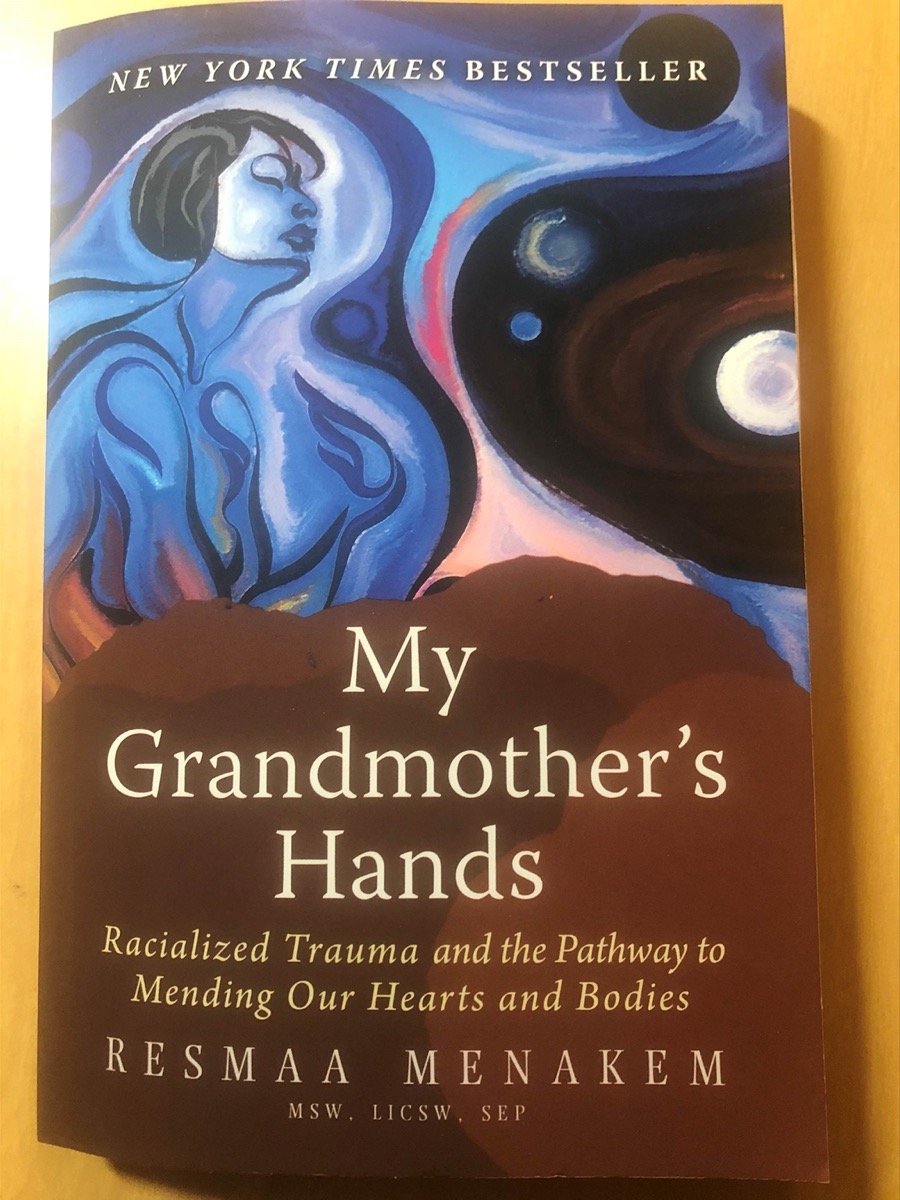 The other way we've chosen to help us find common language and healing is through reading together My Grandmother's Hands; Racialized Trauma and the Pathway to Mending Our Hearts and Bodies by Resmaa Menakem. Menakem's book uniquely examines the social construct of white body supremacy as it is stored in our collective bodies and souls and offers practical exercises that invite the reader into intimate racial healing. The reading and exercises are both disturbing and provocative…and sharing our respective experiences feels risky but again we affirm the value of one another's discomfort.
It sounds difficult, doesn't it? I am certainly finding this work much more personally challenging than I had anticipated. I didn't realize that fear of saying the wrong thing, of being unintentionally racist would be paralyzing. My picture of myself did not include racism; in fact, I felt good about saying that I was colour-blind — not having any awareness of how that denied the experiences of others. My walk with these courageous risktakers has allowed me to start trusting that I will be graciously coached when (not if) I make an error, that risk and discomfort are the seeds of transformation. I am privileged to have my worldview opened and broadened by the stories of others while at the same time, pained by my own naïveté. I am experiencing grace in new ways, and I am deeply moved by the resilience of many in the group. 
While this is hard work, I am filled with hope that this journey we are walking together will bring healing and wholeness to each one of us; hope that the respect, grace, vulnerability, and resilience that marks the working group will be a gift to the diocese as we slowly and patiently move towards a more just, diverse, inclusive and equitable community.