When Bill Morris was seven years old, he and his cousin were out hunting in their Northern Ontario community. They heard a plane land and went to investigate the commotion, as curious children might do. They were both loaded onto the plane and flown to Pelican Lake Indian Residential school. Bill's parents were left to wonder why he didn't come back from hunting.
Bill shared his story with our Primate's World Relief and Development Fund (PWRDF) delegation over dinner in Sioux Lookout on a stop-over on our way to Pikangikum First Nation, a remote, fly-in community in Northern Ontario. He is a newly ordained Anglican priest sharing in team ministry in Sioux Lookout, and fondly known as "the voice of the North" for his years in radio broadcasting. He wears a hearing aid because of the damage done by the blows to the head he received as part of his "schooling."
For the past 10 years, PWRDF has partnered with the Pikangikum band council and other organizations to secure clean, running water for the community. As a member of the PWRDF board and part of Pimatiwizin Nipi (the Living Waters Group), I was invited to visit the community with Will Postma, Executive Director of PWRDF, the Reverend David Franks of Pimatiwizin Nipi and the Reverend Ophelia Kaminawatamin of Bearskin Lake First Nation. We arrived in Pikangikum ready to meet community members, to see the impact of the water systems, to listen, and to learn. The trip was about water, and it was also about much more than water.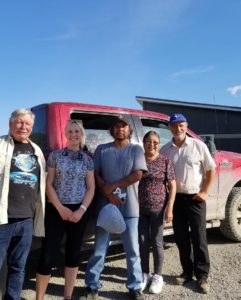 Water is life—our bodies, the food we eat, the composition of our planet, all of it is mostly water. Water connects us, and the bodies of water that dot our landscape are connected, too. Access to water defines the kind of society we can build; it affects physical, mental, and spiritual health; it affects everything from hygiene to education. Water is dignity. Water is wellness. Water is opportunity. Water is connection. Water is reconciliation. Water is justice.
It's easy to connect the dots between lives shattered by residential schools years ago, to the injustice of so many Indigenous communities living under boil-water advisories and without running water today. There's a straight line between the injustice of this racialized reality and the astronomically high suicide rates among these communities.
It wasn't long ago that Pikangikum was shoved onto the world's radar for having the highest suicide rate per capita on the planet. A group of concerned professionals in southern Ontario had formed the Pikangikum Working Group and began meeting with Pikangikum leadership in order to identify priorities in responding to this tragic situation. Running water was at the top of the list identified by Pikangikum's leaders for increasing the community's well-being. If families could shower, use the bathroom, wash clothes, and pour a glass of water from the sink, this would go a long way in building a more solid foundation for physical and mental health.
The church I was serving at the time, St. David, Orillia, was one of many parishes and individuals looking to improve water conditions in Pikangikum and other Indigenous communities, which led to the formation of the Pimatiziwin Nipi (Living Water) network. PWRDF agreed to come on board as the registered charity and project manager, connecting donations with a plan to retrofit Pikangikum homes with septic tanks, clean water tanks, indoor bathrooms, and kitchen sinks. Two "phases" of the work were funded by donations designated to Pikangikum through PWRDF. The third phase was funded by the federal government, and the fourth phase is currently underway. Between 50 and 60 homes now have running water.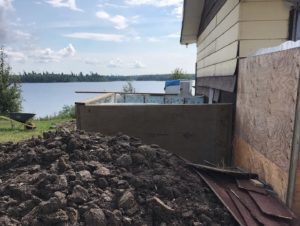 Our first stop was to one of the homes currently under construction in the Phase 4 of retrofitting. There are approximately 500 pre-fabricated houses in Pikangikum, with two or three rooms each, for 4,000 people. Households are selected for the available retrofitting funds based on the family's health needs. As we continued to tour homes from all four phases of the project, we met people with diabetes, people undergoing dialysis or cancer treatments, or with significant mobility challenges, which had made them top priority for indoor water facilities.
I wish that the stories that greeted us across the community were ones of undiluted joy of the difference that water was making in people's lives. In reality, for every step forward enabled by these water retrofits, it seemed that countless other difficulties would reveal themselves:
The water treatment plant is designed for a much smaller community than the 4,000 people now relying on it.
The lagoon where sewage is treated is over its capacity.
Maintenance of the water systems is an ongoing need, but plumbers and plumbing parts are hard to come by in Pikangikum.
Driveways in and out of people's homes can be impassable for the trucks delivering water and emptying sewage.
Boil water advisories are still common, and homes across the community are strained with the number of people living in them. Fifty homes out of 500 is simply not enough homes.
Few, if any, families we met and spoke with had not lost loved ones to suicide. The trauma and grief weighing down the people of Pikangikum was palpable, and the connection between the current day reality and the trauma of the past became clearer across these conversations.
Leaders spoke to us of all that has been lost—language, agriculture, hunting, and traditional practices and teachings that have allowed people to live in harmony with the land across thousands of years. They spoke of the impact of food insecurity, of an expensive and unhealthy diet of processed food, and how this plays out in physical and mental health. One community leader noted the mental health challenges of having so little space and such inadequate housing. Another spoke of the dream of being able to pour a drink of water and use the bathroom in the middle of the night. We had supper with Colleen Estes, who has taught Christian education to the young people of Pikangikum for the past 25 years. When she has talked with young people over the years about what would help them, they often say something like "a shower would help" or "I would so much want to have a bath."
It became important in our time in Pikangikum to talk less and listen more. I got the distinct impression that a lot of well-intentioned people like us have come into this community with their projects and evaluations and their judgments about what "we" think "they" need to do to be "fixed." It also became important to pay attention to hope. The trauma and grief are living, breathing realities in Pikangikum, and the pain and loss that has been passed down across generations continues to make itself known in powerful ways. There is also a faith, a strength, a defiance, and a self-possession that defines the community and that became more visible the longer we listened.
Positive changes
Wireless internet and electricity are now consistently available across Pikangikum. That is making some interesting home businesses possible (we had the most delicious bannock smokies one night, ordered over Facebook), as well as water delivery across the community. An incredible school was finally opened in 2016 after a fire burned down the previous school nine years earlier, and creative efforts are seen all across its curriculum in reclaiming traditional practices and language. A food security program is preparing to launch, and it looks as if it will be a marriage of traditional practices with modern food-growing technology. A Youth Lumber Cooperative was built four years ago, and the young people working there express satisfaction and pride in the work that they do. Among other things, they are able to provide lumber for the retrofitting of the Phase 4 homes selected for the Water Project. Over the past 10 years, the work connected to the Water Project has also provided a significant number of youth apprenticeships in carpentry and plumbing. Band Council leaders and staff spoke to us of their advocacy work in getting Pikangikum its own hospital and addressing the need for upgrades to the water treatment plant and the ordering of more water trucks to service the growing population.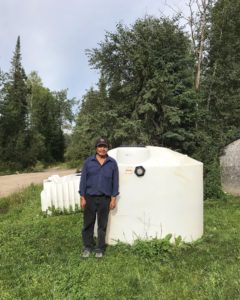 Get involved
Pimatiziwin Nipi, along with the Pikangikum Working Group, are now talking to other communities about how we can continue the work and learning of these past 10 years in Pikangikum in addressing water needs for others. PWRDF is receiving donations for the Mishamikoweesh Water Partnership, as well as for the Indigenous Responsive Program Grant funding Indigenous-led initiatives all across our country.  We encourage churches who want to contribute consider the Advent Conspiracy.  Instead of giving your loved ones "stuff" for Christmas, give the gift of water—make a donation to the Mishamikoweesh Water Partnership and tell someone you love how much they mean to you with a living gift. For more information about how to participate, contact me or go to https://pwrdf.org/water-project/
I think of Bill's story, shared on our way to Pikangikum. His was one of many stories of families and communities ripped apart by a project that lasted for generations, that was government-sponsored and church-enabled, and that was designed to eradicate Indigenous culture and language. There is a direct connection between the inhumanity of taking children from their homes, without even deigning to tell their parents, and subjecting them to the kind of abuse and scarcity that went on in residential schools, to the inhumanity of allowing that same racialized segment of our population to live with under-resourcing that, in any other part of our country, would result in the loudest of public outcries.  I am one of millions of Canadians who enjoy a level of prosperity and opportunity that has been made possible by what has been taken from others.
Truth and reconciliation are not about blame, but are about recognizing that our country cannot be the land of possibility and opportunity we want it to be if Indigenous people are excluded. Doing nothing is not an option. Truth and reconciliation are about learning about what has been lost, what has been broken, and listening for some different voices to share in leading us forward.