Food For Life (FFL) is a registered charity serving Hamilton and Halton Region that "rescues" surplus edible food destined for landfills, and distributes it to those in need through community partnerships.  These include fifty volunteer neighbourhood outreach programs and fifty food programs which deliver fresh food to food banks and other social service agencies. Since 1995, FFL has rescued over 26 million pounds of surplus perishable food (fruit, vegetables, dairy, meat, and prepared foods). Last year, by diverting over 4 million pounds of food from landfills, FFL reduced greenhouse gas emissions by 5.7 million kg. 
St. Jude's Church in Oakville is one of about 35 churches and mosques that are community partners. Each week, church volunteers deliver fresh food to about 40 families living in a local Community Housing Corporation complex. St. Jude's also provides an annual grant in support of FFL operating costs. 
In 2019, Community Living Burlington and Food for Life held a large food sorting event. Afterwards, about seven skids of inedible carrots had to be taken to a landfill. This problem gave Graham Hill, FFL executive director, an idea, so he phoned the Peter Gilgan Foundation.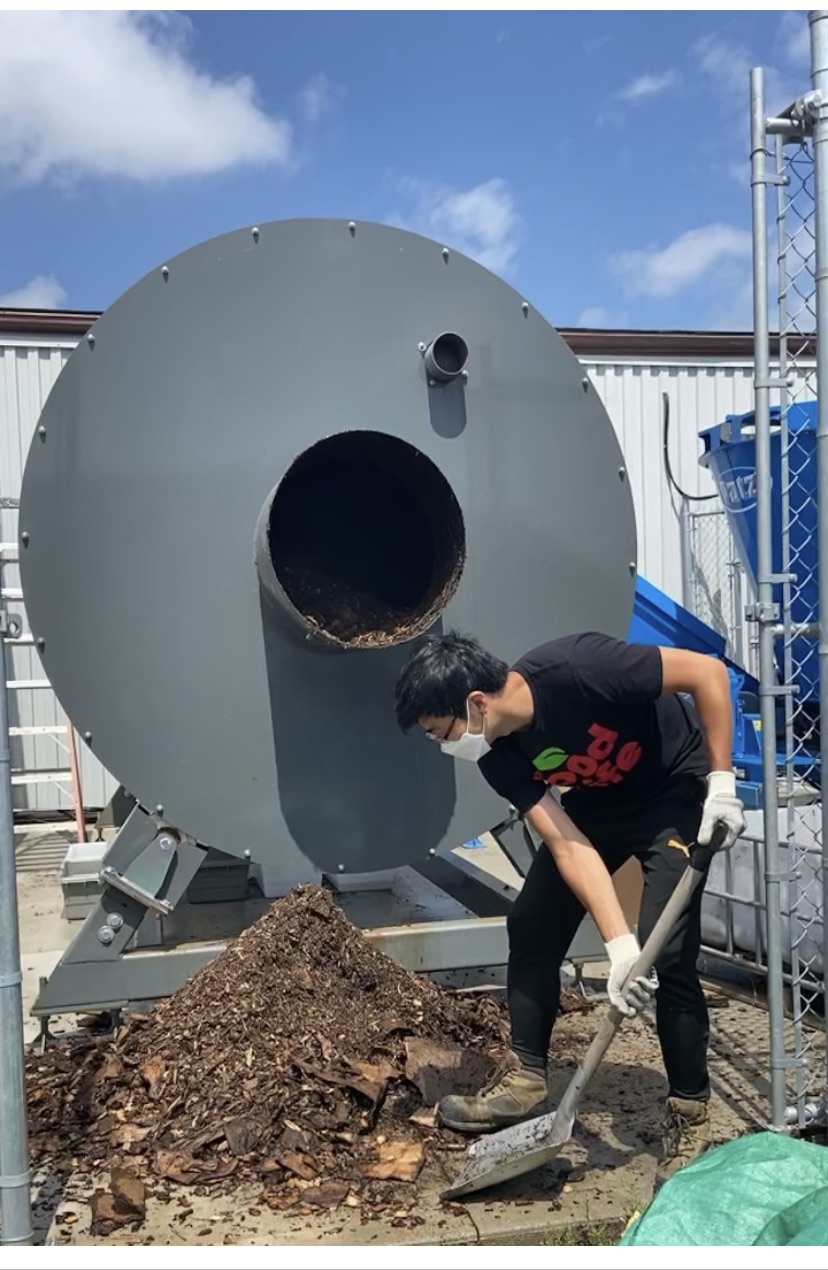 The Foundation provided a $120,000 grant to purchase and install a Brome industrial rotating composter beside the warehouse in Burlington. It heats organic matter above 55 degrees Celsius for three days. After a curing period, the composted material is stirred automatically in the rotating drum. It is capable of processing 5,000 pounds of food waste per week. The original idea was to give the compost to local farmers, but at a compost facilitator conference in 2019, Graham met Jocelyn Molyneux, owner of Wastenot Farms near Orangeville. Jocelyn needed compost to feed her red wiggler worms to produce worm manure, which is ideal for fueling microscopic soil biodiversity and is a key component of regenerative agriculture. 
Meanwhile, plans were underway for a national "Food Waste Reduction Challenge," an initiative under the food policy for Canada to accelerate sustainable, scalable solutions to food loss and food waste.  Streams A and B focus on business model solutions that can prevent (A) or divert (B) food waste at any point from farm to plate. Globally, food waste accounts for 8% of the world's greenhouse gas emissions, largely from edible food decomposing in landfills. More than half of Canada's food production is wasted annually and nearly $50 billion of food wastage is considered avoidable. This competition was launched by the Minister of Agriculture and Agri-Food in November 2020. Graham and Jocelyn agreed to submit an application to the challenge; 342 other organizations did likewise. 
In May 2021, 24 semi-finalists were announced, each to receive $100,000. Food for Life and Wastenot Farms were included. Their proposal was a scalable community food waste solution to rescue and divert surplus edible food to food insecure households, while providing a viable, replicable low-cost food waste diversion model. Food waste and cardboard packaging are composted, then undergo vermicomposting that transforms output into biologically active soil nourishment as "worm manure." This is an elegant solution for retailers and restaurants that are too small for service by large waste management companies. 
Now the Food Waste Reduction Challenge is in stage 2, the market demonstration phase. Semi-finalists will pilot their solutions through eight months of rigorous testing, evaluation, and reporting on effectiveness. Up to 12 finalists whose business solutions have shown the best results for A and B streams will be selected for stage 3.  Each will receive an additional $400,000. Finalists will have one year to scale up the commercialization of their solution. In 2023, one winner per stream will receive a grand prize of up to $1.5 million. 
To learn more about this project, where to purchase "Jocelyn's Soil Booster," 
and how your church might partner with FFL, please visit foodforlife.ca.