Connie Price
St. Matthew on-the-Plains Outreach Committee Burlington, in partnership with Burlington Age Friendly Council who organized the Speakers and Burlington Seniors Community Inc. and who provided financial assistance, invited Burlington seniors to a Tea. It also included housing presentations incorporating information to enlighten the seniors as to how they may be able to remain in their own homes longer. 
The presentations were broken into categories of housing initiatives and updates by the Halton Region, accommodating your home as your needs change by Canada Mortgage and Housing Corporation, as well as adding an apartment in your home by a local contractor. 
The Burlington Age Friendly Council Housing Committee spoke about the HomeShare Program which can bring another person into the senior's home and life, to assist with "mutually contracted" tasks the senior is no longer able to do in exchange for reduced rent. 
Many Seniors are not aware of the housing programs and financial assistance available to enable them to stay in their own homes longer. This information was very well received, as were the tea and goodies served in style by St. Matthew's parishioners.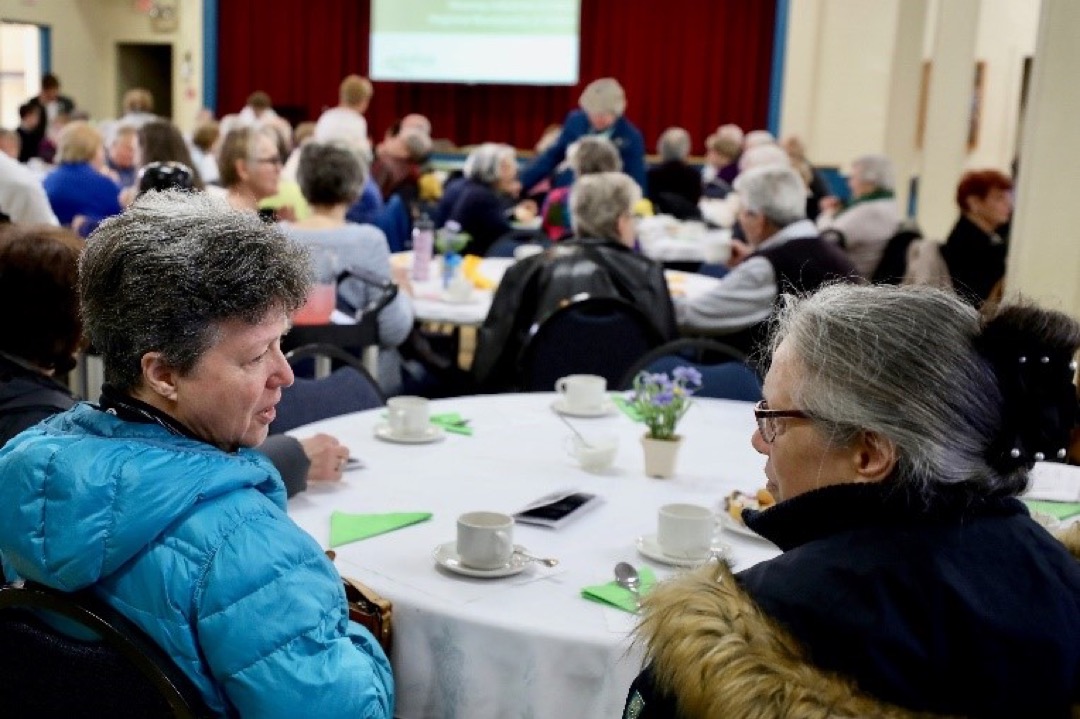 In order to reach and invite as many seniors, including isolated ones, as possible, 5,000 invitation post cards were printed and mailed to individual homes in the Aldershot community. In addition, flyers were posted, emails sent, social media contacted, and an ad was put in the local print and on-line newspapers. This advertising attracted 125 attendees, both seniors and their families. 
Transportation was offered to isolated seniors without means to attend. The presenters noted that they were pleased to see more men attend this one than at previous similar programs. 
To add to the information the seniors received, the Outreach Committee collected a wide variety of senior related information and useful items from all levels of government, fire and police departments, the library and senior organizations within the community. 
Specially baked and wrapped cookies from residents of a local retirement home were put in take home bags and given to the seniors as they left. 
The comments of seniors and family members were very favourable, expressing that they were not aware that all this information and assistance was available to them.
It made all the efforts of the day well worth it. 
Connie Price is Co-Chair of St. Matthew's Outreach Committee.