by Eleanor Johnston and Wayne Fraser
"May only the truth be spoken. May only the truth be heard." The Right Honourable Adrienne Clarkson adopted as the motto for her personal coat of arms this eloquent truth from the Collect for the Nativity of John the Baptist, frequently heard as the short prayer beginning a sermon. So too, Madame Clarkson spoke today's truth to the Bishop's Company. Her presence symbolized a fitting conclusion to the ten-year leadership of Bishop Michael Bird who has encouraged Niagara Diocese — in fact, the wider Anglican communion — to engage in justice issues.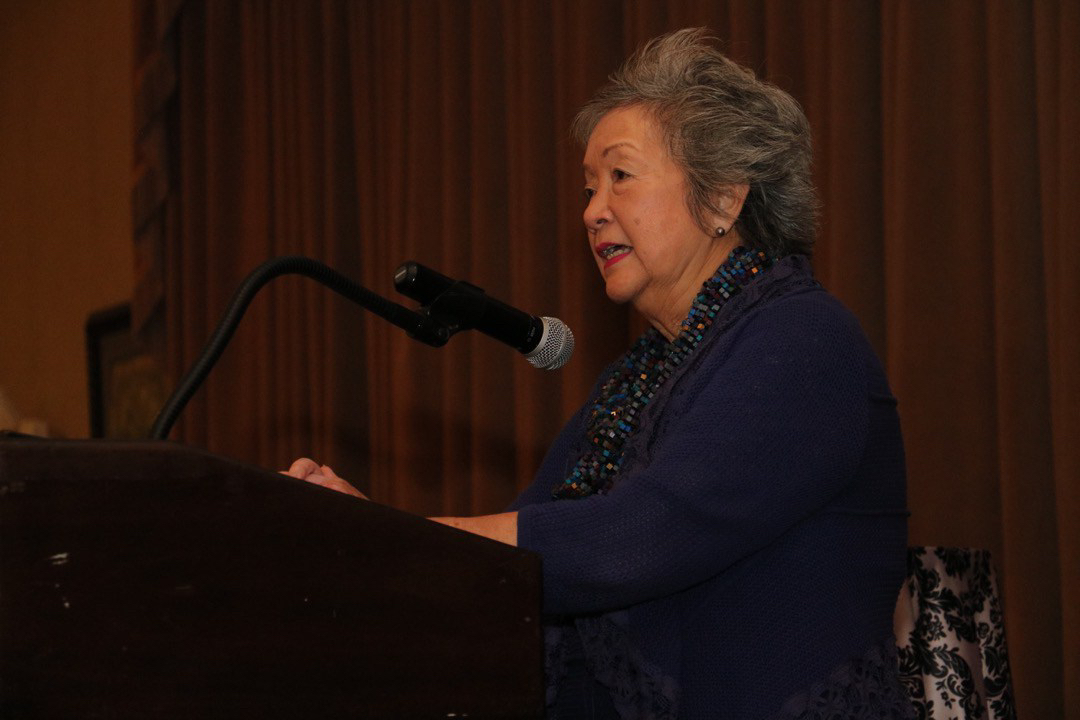 Clarkson spoke of her immigrant beginnings in Canada. Her parents had been married in Hong Kong by Bishop Hall who had, during WWII, ordained the first woman to the priesthood. In Ottawa, Clarkson's family was taken into Christ Church Cathedral and she participated fully in the life of the church.
Madame Clarkson spoke highly of her public school teachers. Her Anglican English teacher in particular inspired her to hone her writing and speaking abilities. On his advice she worked hard and won a scholarship to Trinity College. Sixty years later, she still counts as friends many of those she met there. That continuity of community, she claims, makes us human.
The sequel to Blade Runner led her to ask the questions, "How do we tell if someone is human? How do we face challenges and go on living?" In the face of the madness of the current American administration and the threat of nuclear annihilation, how do we live our lives? Clarkson answers, "As we always have — for the good of others."
Working together, Canadians can do what is possible for the common good. By that she means we must work to ensure that others, even those who disagree with us, have the same rights. Love is not enough, Clarkson claims. We need understanding and a social infrastructure which protects and creates. Quoting from her favorite American novel, Ernest Hemingway's The Sun Also Rises, she underscored that "everyone behaves badly — given the chance." Knowing the truth of this, we must create social structures so people have the least chance to behave badly and harm others.
Clarkson acknowledges that her own life story as an immigrant has become an example of what is possible for anybody in Canada. "You arrive with nothing, but through education and the generosity of this land, you build a new kind of country." Immigrants and refugees "shift and change," keeping a little of the old and adapting the new.
She praised Niagara Diocese for its initiatives on behalf of refugees and migrant labourers. Immigrants "live a personal Calvary" as they struggle towards better lives.
When studying in Europe, Clarkson remembered, she had to go to the police station to obtain her "alien" card. In contrast, Canada in the 1950s established many places for people with TB to go to get better. Foreigners in Europe were seen as threats, whereas Canada welcomed strangers with a helping hand. The previous federal government wanted to take back medical care from refugees, but we must speak against that kind of country, Clarkson asserted. We must always work to help others become fully human as we were created to be.
What, then, is your personal motto, that of your parish, your church?
Clarkson's address calls us to a wider perspective beyond power politics. "Haunted by Anglican influences," Clarkson and Bishop Bird advocate for civic and spiritual engagement. Her speech reinforced the prophetic voice of Bishop Bird over the last ten years.
The most important truth for all of us, concluded Clarkson, is to make life positive for others.