by Sarah Wayland
Why march?
My friend Mary Louise likens going on a march to the act of prayer.
It's just something visceral, she said, an act that just seems necessary. You don't know if it will affect the outcome of a situation or not, but you just want to be part of it, to stand as a witness, to say "This is important." Afterwards, you will never really know for sure what part your own actions had in the outcome.
Going to the Women's March on Washington (WMW) was like that.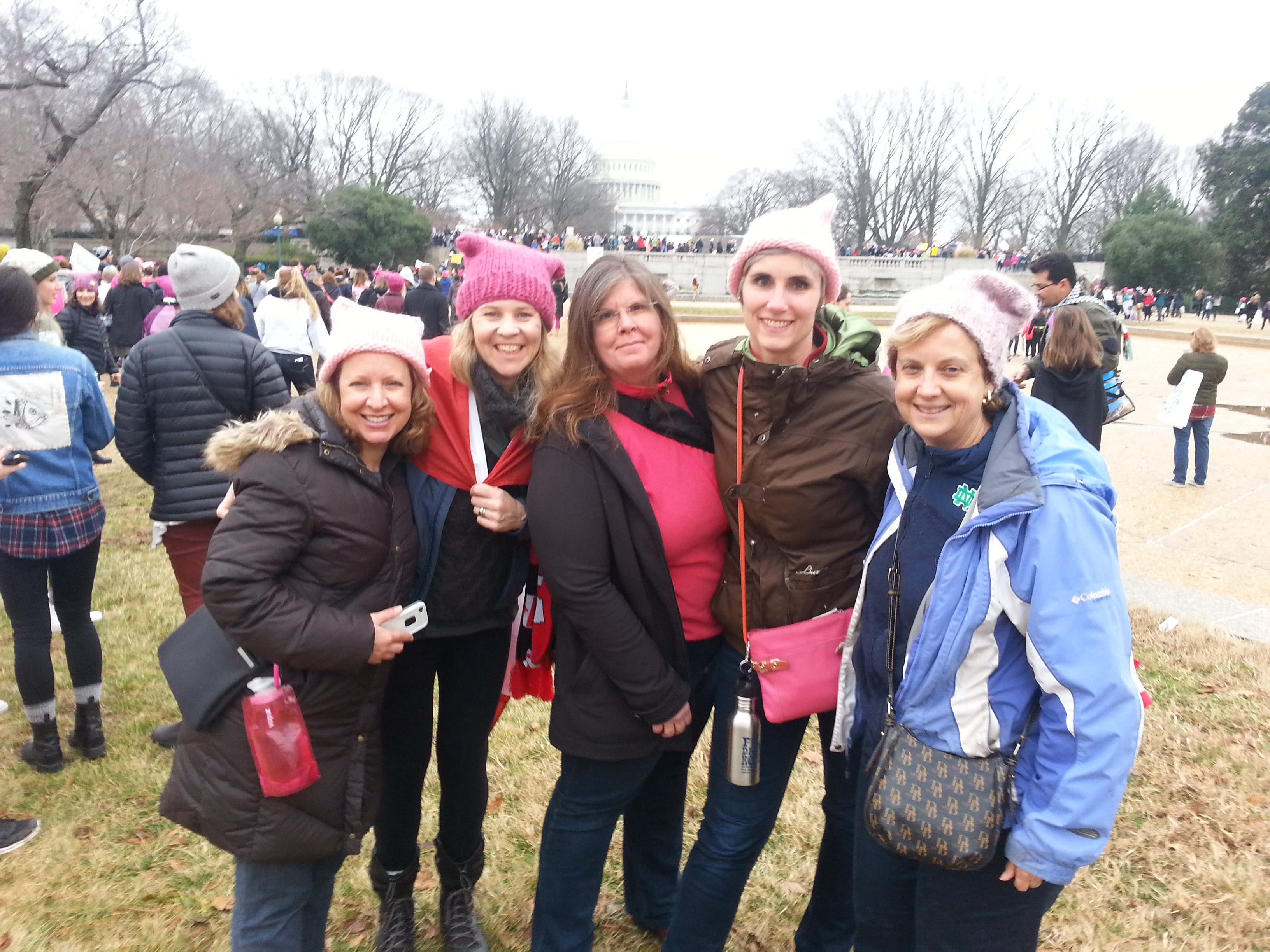 It was an act of prayer, of solidarity with my American family and friends who were devastated by Trump's election, a way to say that all the misogyny and hatred and bigotry and xenophobia were not OK. In the immediate aftermath of the election, when a friend offered her minivan and suggested that we attend the WMW, the decision was an easy one.
As our group of five headed south on Friday (the day of President Trump's inauguration), busy rest stops and clogged highways into the Washington DC area gave us a clue that this march would be bigger than anyone had anticipated.
The next morning, we entered a crowded subway station and boarded a full train, only to experience more and more people crowding in at each stop. Exiting at Union Station, we moved along in a sea of people, making our way towards the designated starting point. We never got close enough to hear or see any of the speeches.
Literally hundreds of thousands of us were left to our own devices to experience the crowd, connect with each other and march on. As our group moved down the Mall, eventually reaching the White House, people milled around us, greeting one another, chanting and carrying their signs and banners.
The sheer number of signs, mostly homemade and many incredibly creative, was an assault on the senses. They ran the gamut from poignant (Strong Women, May we KNOW them, May we BE them, May we RAISE them) to witty (Girls just want to have FUN-damental Rights) to angry (Not Ready to Make Nice and Not my President).
Many focused on women's rights and responses to Trump's misogyny, but people expressed their concerns about many other causes. Of all the signs, Make America KIND again and Make America THINK again resonated most with me.
The presence of faith groups was signaled by signs such as Love your neighbour (no exceptions)! and Do Justice, Love Mercy, March Proudly.
A highlight for me was encountering people from a DC based ecumenical organization that works with refugees. A young woman in that group had an impressively powerful voice and used it to lead the crowd in various chants. Other members of the group expressed their fears for the future of their refugee system. They gifted me with a sign reading REFUGEES WELCOME because All Faiths Value Welcome that I carried for the rest of the march.
Since returning home, I have identified a few intentions, including strengthening community inside my existing circles of family, friends and church community. I felt buoyed by the WMW, and affirmed in the conviction that one person working for the Kingdom can make a difference precisely because that one person is part of something much bigger.
As one of the signs read, Each woman is a snowflake, but together we make a blizzard.
Adapted from an article in Raise the Hammer (January 29, 2017), "Reflections on the Women's March in Washington." Sarah Wayland, a member of St. John the Evangelist Hamilton,