Christ's Church Cathedral was urgently compelled to love and jump to action during this pandemic, winter season, and time of housing crisis. On January 27, we opened our Warming and Resting Centre as a place where people who are precariously housed and food-insecure can come for resting, warmth, light snacks, hand washing, referrals, friendship, and pastoral care. We now have made a decision to make this an ongoing ministry every Thursday, Friday, and Saturday from 10:00 a.m. to 12 noon.
"Be devoted to one another in love. Honor one another above yourselves. Never be lacking in zeal, but keep your spiritual fervor, serving the Lord. Be joyful in hope, patient in affliction, faithful in prayer. Share with the Lord's people who are in need. Practice hospitality." (Rom 12: 10-13)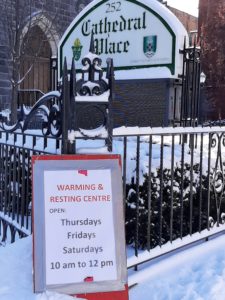 As of March 26, 2022, over the 9 weeks/27 days we have seen an average of 7 people per day. Through our amazing volunteers and clergy, we are starting to build trust and community. The following is information on the demographics and observations:
There have been 202 visits by 61 individuals; 20 individuals attend regularly.
87% are male, 13% are female.
40% of visitors live in a shelter, with the rest evenly split between those who are housed and those who are homeless.
All have experienced homelessness.
Many experience loneliness and seek community.
Poor mental health has been observed.
Some seek pastoral care.
The Christ's Church Cathedral's Community Engagement Discernment Team was convened in May 2021 to identify potential outreach opportunities. During the process, interviews were completed with service organizations, faith groups, neighbours, etc. The most frequently referenced need identified was drop-in space or "safe space" for various populations. It became apparent that our missional calling was to implement a program to safely support our vulnerable neighbours and offer community, compassion, and hope—which is the mission of Christ's Church Cathedral.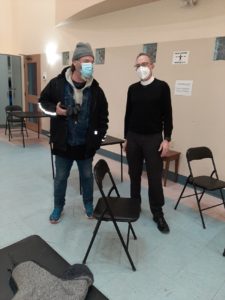 In preparation for opening the Warming and Resting Centre, it was important to ensure the availability of volunteers. Within days, we had interest from 27 people to volunteer in-person. These volunteers are from our cathedral family, St. Paul's (Westdale), St. John the Evangelist, individuals who previously volunteered at the Resting and Hygiene Centre, and many other individuals in our community. We all met on Zoom for training, which was provided by Dr. Dale Guenter and Kerry Lubrick. Very few "fears" with volunteering were identified; the main fear was of contracting COVID-19. What was overwhelming was the passion and interest to participate in this ministry.
Our strength and asset in this mission is definitely our people; the volunteers, clergy and staff. They are truly examples of "servant leadership": loving others, listening, humility, compassion, trust, commitment, and caring. I truly see discipleship and see Jesus washing the feet of his disciples in every interaction.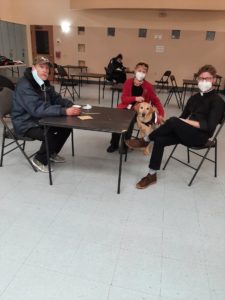 In addition to the team of in-person volunteers, we have a significant number of volunteers who contribute in other ways. Coordinated by David Savage, there is a team of people who bring supplies regularly to the centre. Deliveries include cream, milk, cheese strings, bananas, baked goods, etc. There are also volunteers who gathered gently used winter clothing to distribute at the centre. In addition, there are many individuals who have provided financial donations that assist in purchasing supplies including gloves, hats, and socks. Grace Anglican—Food with Grace (Rev. Sue-Anne Ward) has also been generous with supply donations.
As we continue with this ministry, we will look to develop further programming, as COVID-19 protocols allow.  If you are interested in assisting:
To volunteer in-person, contact Kerry Lubrick ([email protected])
To assist with supplies or donation of gently used clothing/shoes, connect with David Savage ([email protected])
Make a financial donation by sending a cheque made out to Christ's Church Cathedral and note for the Warming and Resting Centre in the memo line, or send an e-transfer to to [email protected] indicating in the message block provided as part of your bank's e-transfer process that the donation is for the warming centre.