I am humbled and honoured to serve in the diocesan Anti-racism Working Group and to be a proud member of the Latin American community in Canada, specifically a Latino. The creation of this working group is a serious attempt by Bishop Susan to place anti-racism, an important issue, in the list of priorities of the diocese.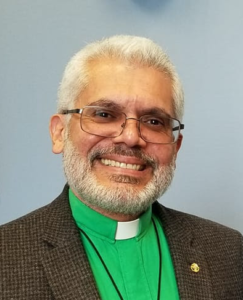 As a Church and people of faith committed to the Good News of God in Christ and being faithful to our baptismal covenant vows, we are called to love our neighbours, strive for justice and peace among all people, and to respect the dignity of every human being. As a Christian I cannot remain silent to a racist and white supremacy discourse that excludes, oppresses, and marginalizes Black, Indigenous/First Nations peoples, People of Colour, and others.     
In an attempt to be inclusive and to recognize a particular ethnic community in Canada, the federal government in 2018 established October as Latin American Heritage Month. All Canadians are invited to celebrate this month. It's a time when all in Canada are reminded about the significant contributions the Latin American community has made to the social, economic, and political fabric of this nation. It's also a month to have "fiestas," and to promote culture, food, music, and Latin traditions with all Canadians.   
I encourage you to reach out to a member of the Latin American community in your parish or neighbourhood and share your stories. From your contact experience you will more than likely learn that the majority of Latin American Canadians are mostly immigrants who arrived in the late-twentieth century, and continue to arrive, from Mexico, Chile, El Salvador, Peru, Colombia, with smaller communities from Cuba, Honduras, Venezuela, Costa Rica, Puerto Rico, and elsewhere, with nearly all Latin American countries being represented. The reasons for immigrating include Canada's better economic and education opportunities, as well as political and social stability. Also, some have immigrated because of authoritarian regimes, political repression, crime, violence, and civil war in their native countries. 
I am a firm believer that immigration and multiculturalism enrich Canadian society. All peoples—despite our cultural and language differences—work to make a better country for future generations. All our contributions forge a diverse and strong nation. 
Recently, as an assignment for my formation in the Sewanee Ministry Collaborative, I read Decolonizing Christianity: Becoming Badass Believers by Miguel A. De La Torre. The author asserts that "racism is an institutionalized ideology that creates and justifies unearned power, privilege, and profit for one group of people due to their race or ethnicity at the expense of others while systematically protecting, maintaining, and advancing said power, privilege and profit." Racism has no space in our Church and society. If we honour our baptismal covenant, we all must prophetically denounce the injustice and oppression of racism in all its forms. De La Torre writes, "Racism is not a belief but complicity with an ideology." We cannot be complacent and must do what we can to educate about the evils of racism.   
In 2019 I accepted a call to be the missioner to the migrant farmworkers' community in the diocese. Most of the migrant farmworkers I serve are our neighbours for eight months of the year. I have been blessed to serve these workers from Mexico and Central America, also a part of the Latin American community in Canada. Every year under the Seasonal Agricultural Workers Program (SAWP), thousands arrive to work in the Canadian agricultural fields, vineyards, orchards, and greenhouses. The work migrant farmworkers do is exhausting and back-breaking labour that most Canadians do not want to do. 
The SAWP was created in 1966 to counter the chronic shortage of domestic seasonal farmworkers. This program provides the Canadian agricultural sector and the fruit and vegetable growers a vital source of supplementary labour and ensures that fresh, local foods are available on the tables of Canadian families. 
As De La Torre writes, "Bringing an end to racism requires dismantling the social structures that enforce the racism of nice, politically correct white people." An injustice of the SAWP is that it does not provide a path toward permanent resident status for the migrant farmworkers that want such status. Not being able to become a permanent resident forces the migrant farmworkers to return to their home country to collect their Canadian earned pension, and prevents migrant farmworkers from receiving the Canadian health care services to which they have contributed by working and paying taxes in Canada. In June 2020, Bishop Susan wrote to Prime Minister Trudeau: "Canada must provide status for all and landed status now. This means that everyone in the country without permanent resident status must be regularized and given permanent resident status immediately, including migrant workers, study permit holders, and refugee claimants." I believe in permanent resident status for all. 
As we celebrate Latin American Heritage Month, we all have an opportunity to enhance the dignity of all peoples by doing what we can to educate ourselves about the evils of racism and to denounce it when we see it.  
Antonio is the diocesan Migrant Farmworkers Missioner & Priest-in-Charge at St. John the Evangelist, Winona. For more information, visit www.migrantfarmworkers.ca.