Reflections From the New Director
I have a very distinct memory from the first time I ever set foot at Canterbury Hills Camp. In the winter of 1998, I attended family camp with my parents and my younger brother. One evening for snack were presented with tortilla chips and shredded cheese. We sprinkled the cheese on the chips and off they went to the microwave, only to emerge mere moments later transformed into gooey piles of magic: "nachos". As evidenced by the clarity of this memory 24 years later, this was a life changing moment. Canterbury Hills had won my heart. All credit goes to microwave nachos.
I write today from a place of reflection and deep gratitude. It's the winter of 2022 and I've just begun work as the director at Canterbury Hills. It isn't hyperbole to say this has been a lifelong dream of mine. I attended Canterbury as a camper for ten summers and worked on the summer staff team for another ten summers. In autumn of 2017, I accepted a position as the director at a United Church camp in Niagara and, after four fantastic years of leadership there, I am thrilled to be back at Canterbury. 
When I think of Canterbury Hills I think of support, love, comfort, faith, inspiration, safety, and familiarity. The summarizing word that comes to mind is "home," and what I love most about this special place is that so many other people would say the same for themselves.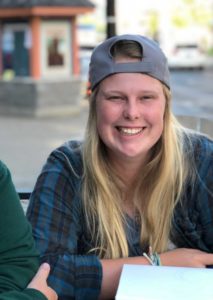 I am reminded of Ephesians 2:19-22, particularly this paraphrased wording from The Message as selected by a group of camp staff I worked with in 2018: 
"That's plain enough, isn't it? You're no longer wandering exiles. This kingdom of faith is now your home country …You belong here, with as much right to the name Christian as anyone. God is building a home. He's using us all—irrespective of how we got here—in what he is building…he's using you, fitting you in brick by brick, stone by stone, with Christ Jesus as the cornerstone that holds all the parts together. We see it taking shape day after day—a holy temple built by God, all of us built into it, a temple in which God is quite at home."
I love the imagery of God creating holy space by placing us all together, and the sentiment that we are all equally important parts of the whole no matter who we are, how many summers we've spent here, or how long it has been since we last visited. All of us together as a community are what make Canterbury a home, a place of belonging, and a place of faithful exploration.
In many ways this image is at odds with the reality of so much recent time spent confined in our individual houses. "Home" may instead feel empty or isolating. In recognizing what is missing from our recent experiences of "being at home," God underlines for us again the importance of the line, "he is using us all in what he is building." Home is togetherness.
So, my hope for this coming summer at Canterbury Hills Camp is this: may we experience togetherness. 
I deeply hope that this experience of togetherness can include the return of overnight camp and adventure camp to our program offerings (alongside the always popular day camp!). I feel the blessing of having such a dedicated community behind me as we take on the challenge of planning for overnight camp programs. You are the bricks and stones that are built up around me, keeping me steady as I strive to bring this vision to fruition.
Alongside you I know that we will find togetherness regardless of where we are led this summer. 
There is so much more to say and to share about my dreams for Canterbury Hills this summer and beyond. For now, I look forward to having many opportunities to share with all of you the ways that this vision is lived out in the coming months.
Learn more about Canterbury Hills Camp at https://canterburyhillscamp.ca/