By Rob Park
In early August of 2018, there was a phone message left at the church from a person doing genealogy research on their family. Certainly, not an uncommon phone call to receive for a church over 165 years old. St. George's Church, Georgetown was established around 1852 and until 1888 had its own burial ground.
The person calling was Carol Ann Currie, who was inquiring about Evan & Sarah Price, and one of their sons Robert, her great great grandfather, who she understood had been buried here at St. George's.
As the parish priest, I was happy to call Carol Ann back and help her with genealogy but also introduce myself to her, not just as the rector of St. George's but also as a descendant of Evan & Sarah Price myself! They were my 4th Great Grandparents.
It is a small world, isn't it.
Carol Ann, and her husband Jim soon came to visit the cemetery and pour over the archives. Unfortunately, the cemetery stones, which had been gathered together in the 1970's to preserve them, had been vandalized in the 1980's and never properly repaired and the fenced in area of concrete hadn't been weeded since early spring, so the stones were tough to read. 
I told her that the first burial in the St. George's "burial grounds" in 1855 was, in fact, our shared ancestor Evan Price and that the stone he shared with his wife Sarah, had been broken and the top part with Evan's name was missing. But from our meeting, we shared a desire to have the stones repaired.
Soon after her visit, I received an excited note from her saying, "I was inside the fence cleaning off the stones and almost fell over as I couldn't believe my eyes. There, as clear as can be and very well preserved, is the headstone of my Great Great Grandfather who I was looking for, Robert Price."
Carol Ann, using our records, did further research, looked for other descendants of those named on the broken stones. She also contacted other Price family descendants to begin to raise funds for repairs. I secured some funds from the church budget and from the support of our Thursday Morning group.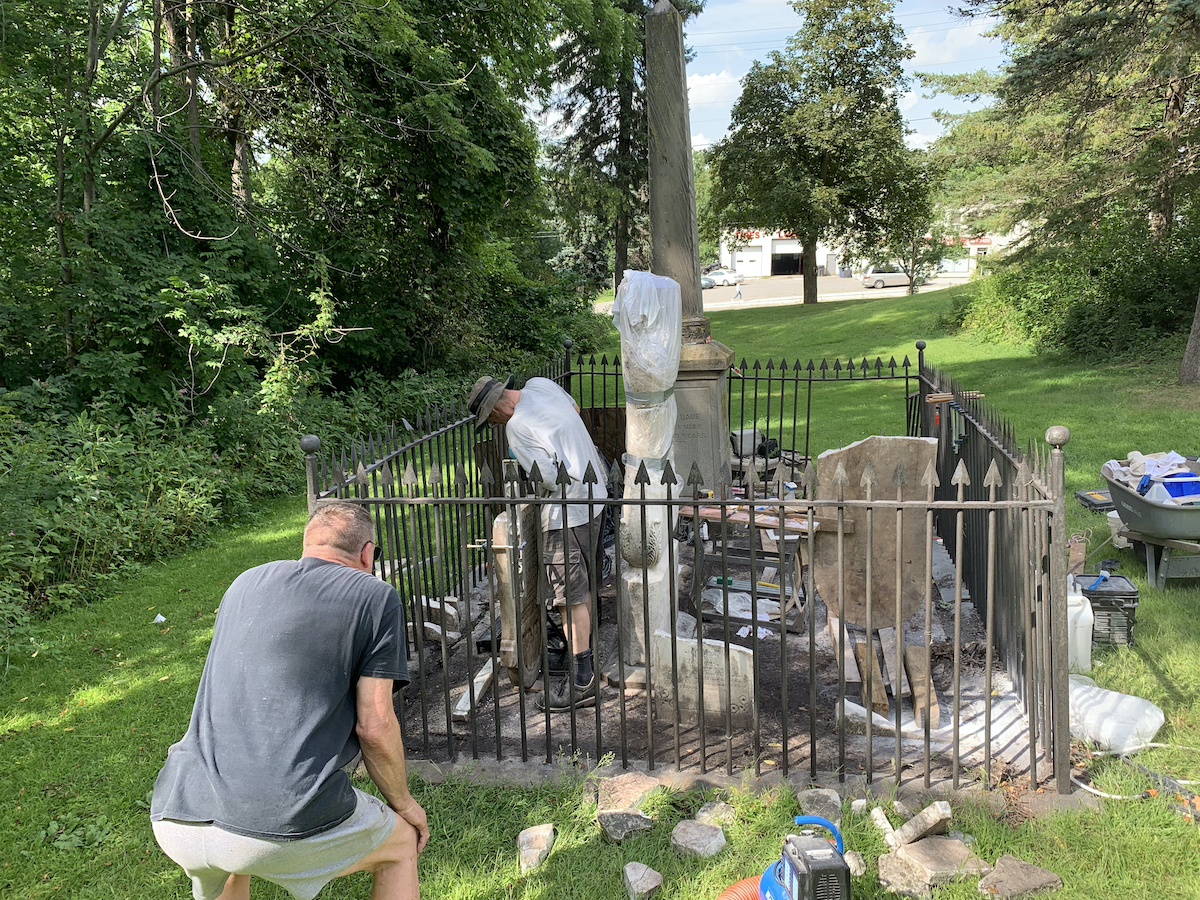 Over July and August of 2019, Alan Ernest, a local historic cemetery specialist began the work of repair and restoration. With the repair work done, the stones are in much better shape, although not all the damage could be undone.
Carol Ann and I hope to find a way to record the names of all those who had been buried in the old cemetery on a plaque or sign, so that all their names would be remembered and not just the ones on the stones we were able to restore. 
Evan and Sarah would be proud of their family and their church.
---
Welcome to Trafalgar Region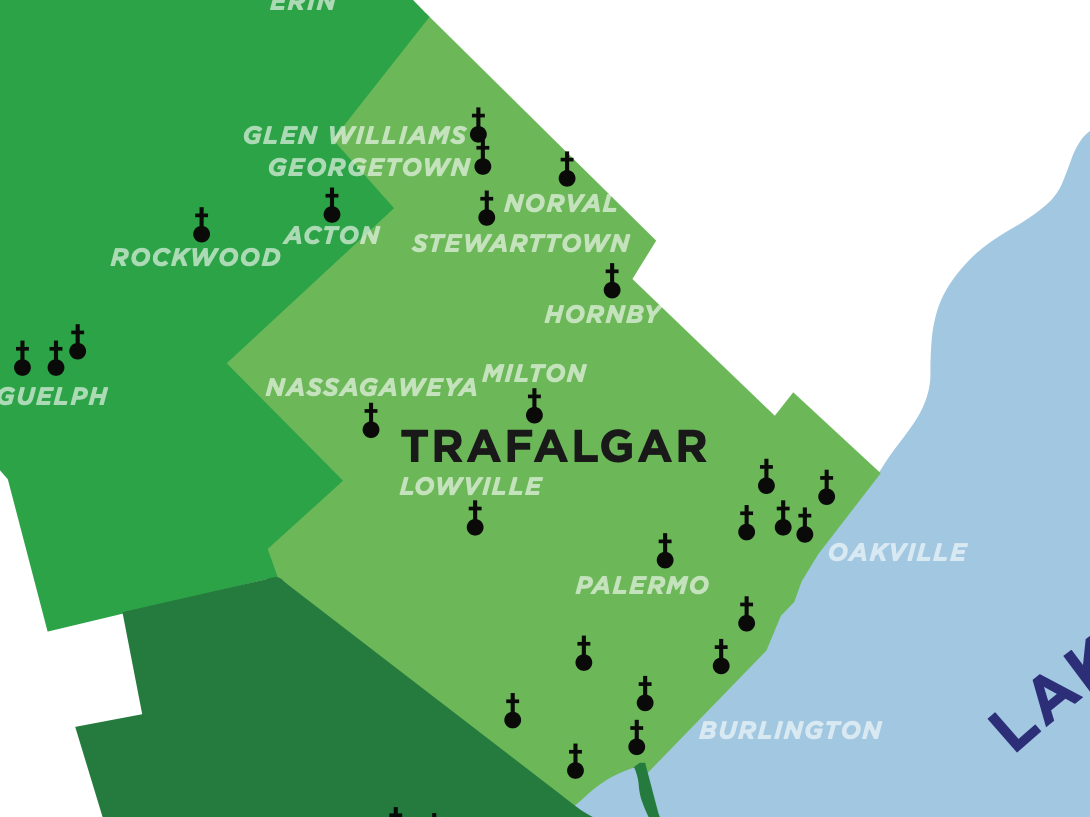 The Region of Trafalgar is basically Halton Region and Waterdown. This is the area sandwiched between Hamilton and Mississauga/Brampton and from Lake Ontario in the south to almost Guelph. We embrace the communities of Georgetown (including Glen Williams, Norval, Hornby, Stewarttown), Milton (including Lowville and Nassagaweya), Oakville, Burlington, and Waterdown. There are 21 churches of varying sizes and ages. Halton Region has experienced heavy population growth for more than two decades and it has been projected this will continue for at least another decade. 
The current population is approaching 600,000. This is a bedroom community for thousands who daily commute to Toronto for work, filling many GO Trains and associated parking lots and clogging the QEW/403 and 401 highways.
The region has transitioned over time, from a predominantly British, United Empire Loyalist, concentrated set of very separate communities, to interconnected and extremely diverse communities. This has led to many changes of our parish communities; the boundaries, the languages, the food, and the culture, have all become broader and richer. 
We may still hold some traditions of worship and ritual events, but we now have many food and music festivals featuring a variety undreamt of only one generation ago. We are home to many newcomers to Canada, including many refugees. We are, whether we like it or not, learning to reach out to people who have no experience in Anglican churches or faith communities of any kind. 
All of this is forcing us to rethink how we are church, even in very entrenched parish communities. Mostly, it is forcing us to learn how to communicate our faith to our new neighbours in ways that we didn't need to in the past. We can no longer take for granted that everyone we meet in the grocery stores, or coffee shops, or parks, or by the lake, even know what we mean when we say the word "church". We are learning to introduce ourselves, our church, and our faith to people with zero knowledge or experience of Christ or the Anglican church. 
We have parishes begun in the 18th, 19th, and 20th centuries and new mission ministries begun in the 21st. We have embarked on efforts of trial and error, seeking to find new (hopefully effective) ways to share who Christ is to us and how it can enrich the lives of others. 
This has offered us new challenges for explaining and encouraging the stewardship of time, talent, and treasure. 
for some we are place where they can learn new languages, culture, traditions
for others we are a place to meet neighbours, learn how to paint, or write, or dance
and for others we are a place to get help learning how to navigate life in a new land and obtaining the essentials of life, such as food, clothes, and caring for our families even during climate emergencies.
Our region is definitely a field of challenge and opportunity; a place to truly exercise the potential of our new diocesan vision and mission action plan.