The Kitchen Bees, an outreach project of The Church of the Apostles in Guelph, has been keeping busy in October gathering socks for their month-long sock drive 'Socktober'. The focus of this project is to help keep Guelph's most vulnerable warm throughout the cold wintery months ahead. The Kitchen Bees were thrilled with the overall success of Socktober, collecting a grand total of 5000 pairs of socks.
The Kitchen Bees had a stretch goal of collecting 1000 pairs of socks in October. At the beginning of the month they were unsure if it would be possible to collect so many socks on their own. Kitchen Bees Coordinator John Dennis said "We extended an invitation to a number of churches in Guelph. Kortright Presbyterian Church, Dublin Street United Church, Harcourt Memorial United Church, and River of Life Church all joined us for Socktober."
As the weeks went by, more and more donations came in – quickly surpassing the initial goal of 1000 pairs of socks. Alexis Mimacho, the Kitchen Bees Project Facilitator, said "We weren't expecting the word to spread as fast as it did. There were 150-200 pairs of socks being dropped off each day at one point". The program cincreased the goal to 2000 pairs of socks, shortly after hitting the 1000 milestone.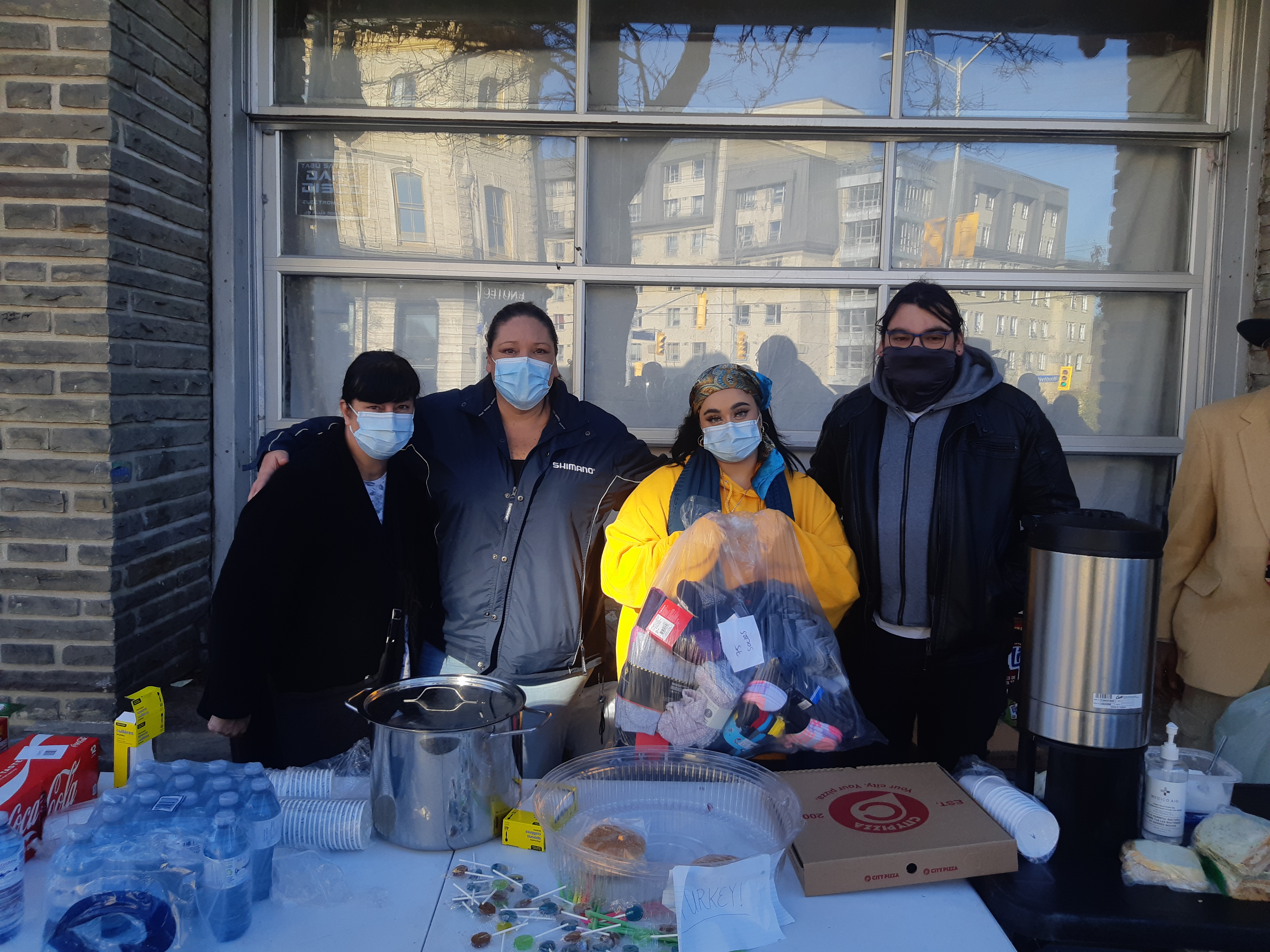 A local school, St. Francis of Assisi Catholic School, collected 700 pairs of socks during a pajama Tuesday event and a local company, MF Property Management Ltd., collected funds from staff to purchase 200 pairs of socks. All different types of socks were collected including children's socks, clean gently used socks, and a surprising number of Christmas themed socks.
The socks collected will be distributed through local emergency relief organizations, The Bench and Your Downtown Guelph Friends. Ed Pickersgill from The Bench said "we distribute more than 5,000 pairs of socks each year. Having the socks donated means that we can allocate our limited funds to purchasing more food and hygiene products."
The reason that so many socks are needed is that the most vulnerable in Guelph often lack access to laundry facilities or the funds to wash clothes. Socks often get worn until they become unwearable, therefore a clean pair of socks can have a significant impact on someone's well being. Foot conditions are a highly prevalent issue among the homeless, with up to two thirds reporting a foot health concern and one quarter of individuals visiting a health professional, according to a recent study.
Kitchen Bees Coordinator John Dennis noted that "we were thrilled with all the socks that we collected. Our sense was that everyone can relate to having cold feet. The success of the program is the result of the community coming together to support this worthy cause."
Alexis Mimacho is the Kitchen Bees Project Facilitator. The Kitchen Bees is a volunteer emergency food program started in response to the pandemic in May 2020. Volunteers prepare meals in the church's commercial kitchen for local emergency food providers and street missions. In 2021, they will provide 7,000 meals, much needed supplies, and opportunities for over 100 volunteers to prepare meals. Questions can be directed to [email protected]