The word resilience rose to the surface time and again as Executive Director Reneé Wetselaar and Board Chair David Savage reflected on the past year for St. Matthew's House in advance of their annual general meeting this fall. 
"Resilience is everywhere in our organization," said Wetselaar. "We see it in the little ones determinably trying new steps, toddling unsteadily around, tripping and falling, only to get up and do it all over again. We see it in an older adult, trying to get into housing, hoping it works this time around."
Savage agrees, and adding that "resilience lives within our board, the people who help shape St. Matthew's House to respond to the needs of today while preparing strategically for tomorrow."
The impact of St. Matthew's House in the community it serves and the hope it offers to its neighbours, especially children and vulnerable seniors, is significant (see graphic).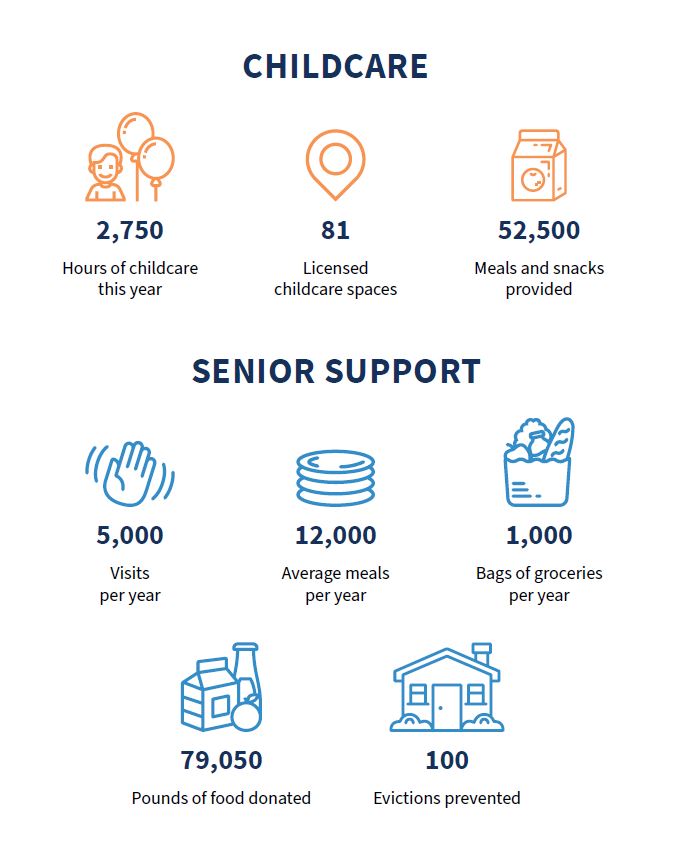 This year, the members who attended the annual general meeting heard that St. Matthew's House has:
re-evaluated programs and took concrete steps to prioritize vulnerable seniors; 
opened new childcare spaces; 
re-engaged the public in new ways; 
shone a light on seniors' isolation, poverty, and homelessness; 
advocated for systemic change; and 
rapidly ramped up to respond to COVID-19. 
"Caring for our neighbours and providing transformational services that bring hope is at the heart of the mission of St. Matthew's House which has adeptly pivoted with the pandemic to continue to meet the complex needs of the vulnerable older adults and families they serve at this especially difficult time," said Bishop Susan Bell, who serves as an ex-officio member of the board and brought greetings from the diocese at the annual general meeting.
Since the start of the pandemic, St. Matthew's House has pivoted its support for older adults and seniors to include mobile programs and services. They have continued to support seniors facing eviction with our HOPES – Housing Outreach Preventing Eviction for Seniors Program, offered caseworker support to those suffering through poor mental health, poverty, food insecurity and a lack of adequate income.
Looking ahead, the annual Adopt-A-Family/Senior's Christmas Program will be re-opening with COVID-19 precautions in place; registrations are currently being accepted. "We will continue to care for our neighbours and be the place where hope lives through our expanding childcare centre, services for vulnerable older adults, and our annual holiday program," said Savage.
While it's been an extraordinary year for St. Matthew's House, Wetselaar points out that the organization's incredible resiliency is only possible because of the generosity of their donors and funders. "The hope they place in us, magnifies the hope we hold in every corner of our organization."