"Life changing, fun, moving, challenging and filled with Jesus", are words used to describe this year's Youth Leadership Training Program (YLTP) by participants.
The YLTP gathering took place on March 10 –13, 2019 at the beautiful Canterbury Hills Camp in Ancaster. 
This year we launched the new Student Leadership Challenge curriculum as a tool to help shape and equip young people of the church with leadership skills. 
The support and positive feedback from clergy, lay leaders, families and participants have been overwhelming and energizing! The success of the youth and this program relies entirely on the dedicated volunteers and support from the diocesan family.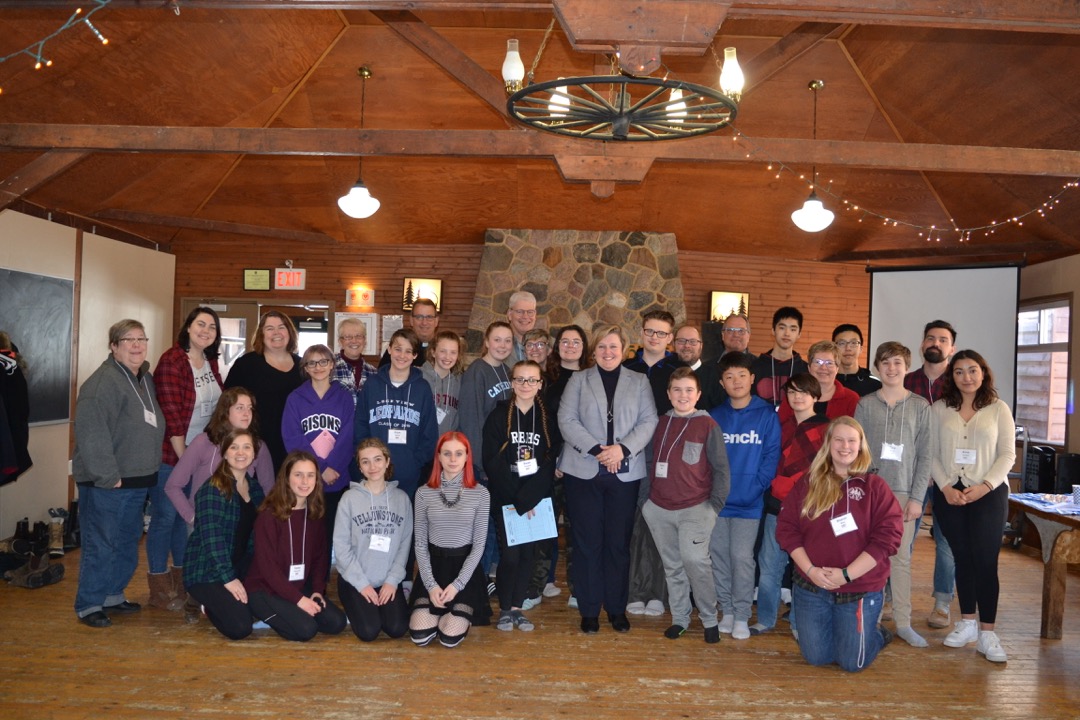 Even with all the hours of preparations, team planning meetings, packing and familiarization with new program curriculums, I could not have anticipated the level of encouragement, leadership and openness to connect with God that the young people of Niagara exhibited throughout the four days.
Watching the young developing leaders walk a labyrinth, plan and offer meaningful worship and prayers, and build a welcoming community profoundly painted a fruitful canvas that represents the landscape of youth ministry in today's Niagara Diocese.
A favourite moment shared by many was when Bishop Susan arrived for lunch before the third year Marketplace. Instead of rushing to tables with hungry bellies, the youth welcomed the Bishop to sit among them in front of a wood burning fire. This unplanned moment awakened precious curiosity and organic conversation that ended in prayer. God's presence was profoundly felt during this time. 
The Reverend Ann Turner, a mentor for the third-year cohort explained, "There is little more inspiring than the creative energy that my group brought each year to YLTP. This was an amazing group of bright, faithful, engaged and questioning people. Every conversation served to challenge me deeply. I have nothing but gratitude for the experience — and maybe some sleep to catch up on!" 
"It is an incredible blessing to find a group of teenagers so wholly willing to forgo a March break spent vacationing or spending time with their friends in order to better themselves and the communities they are a part of," says Sharon Millar, a first year Mentor.
The YLTP gathering has concluded for the year but will continue to live on through the leadership roles that the participants are encouraged to embark upon as the leave the program and return to their parishes, communities and homes. 
We thank you for your continual support and prayers for youth ministry. 
---
Jody Balint, Lay Pastoral Associate at St. John's Rockwood, described her experience as a Mentor in the Youth Leadership Training Program:
Watching the youth over the three years grow into themselves and their faith was incredibly humbling. 
Seeing God through the eyes of a young person is always an adventure.
YLTP is a fantastic opportunity for young people to grow stronger in their faith and form life long friendships. 
As a mentor, it is an opportunity to be a part of something inspiring, gain new perspectives and keep your finger on the pulse of a younger generation. It gives you an opportunity to see and understand where young people are struggling with their faith and where they need support. 
Being a mentor with YLTP simply put, is just a great way to experience and spend some time with God.
---
For any information regarding Children, Youth and Family Ministry contact Sarah Bird.