As a Canadian, I should be talking about the weather, the Leafs, the government, or the pandemic. I am writing instead to give you a glimpse of the witnessing of Christ at work in the people of Welland, and how they have come together to support and help their fellow brothers and sisters.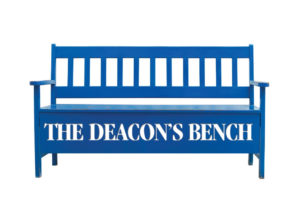 Like everyone else, I am waiting for the "big" miracle to happen, but with the world as it is today, that seems very scary. I keep looking for the small miracles happening all around us—and yes, they surely add up to make for a great miracle.
At Holy Trinity Church Welland, where I now serve as their deacon, I am in awe at the selfless giving of the church communities. Our Food and Hygiene Pantry has been ongoing for many years. It provides food and personal products to over 350 families each month. As well, hot meals are prepared and given out through a window in the Canterbury room (at the back of the church). I might also mention that this is the same window we use for our fabulous "Fish & Chips" take-out dinners. Anyone have access to a used McDonald's take-out window? (Just kidding.)
I am the Coordinator for the Welland Harvest Kitchen. It started as a soup kitchen before the pandemic. We then shifted to delivering 320 frozen meals every two weeks. Eight different church groups prepared, cooked, and froze these meals. They were then collected, bagged, and delivered by volunteers. Now, we have those same groups making the meals and handing them out at different churches every day of the week.
Our faith community is strong. We all bring gifts we share. Our prayers for each other and those we serve build us up and the whole body of God is strengthened.
We came into contact with a group called "Beyond the Streets" after an incident occurred with a few homeless people on the church grounds. This group walks the streets daily, helping with handouts of clothing and food and talking with the homeless. They have built a relationship of trust with those on the street. In working with this group, we were enlightened with the term "hangry"—they are so hungry, they are angry. The wheels were put into motion, and Holy Trinity Church is now the centre for a morning breakfast program running 365 days a year. This is all made possible with over 300 volunteers from the caring community of Welland. It was here that I saw Christ at His best. 
The breakfast window is open from 7:30 a.m. to 8:30 a.m. Our clients are told if they would like more to come back for a second meal (if available) at 8:30 a.m. As this had happened late one morning, a person approached the window for the first time and was told all the meals had been given out. Someone who received a second meal overheard this conversation and offered that meal to the man arriving late.
Visions of the poor widow placing all she had in the coin box came instantly to mind and I was overwhelmed. It is truly amazing to see how the homeless community can demonstrate the teachings of Jesus; "If you have two cloaks give one to someone who has none."
I believe, with all my being, the Holy Spirit is at home at Holy Trinity Church. The Spirit fills the halls and overflows to the surrounding grounds. This ministry is fuelled by the hearts of all who give of themselves for each other. I am truly humbled as I witness these small wonderful miracles that do happen every day.
Thank you to all!