The Church of the Apostles in Guelph welcomed 70 people to enjoy a free Upcycled Dinner. The Upcycled Dinner focused on food waste and food insecurity and was organized by the church's Living Better on Less Program. The meal was presented as part of the City of Guelph's Waste Reduction Week. 
Volunteers worked with food donated by local organizations including day old bread,"ugly" or bruised produce unable to make it to grocery store shelves, and items nearing the end of their shelf life. Living Better on Less Coordinator Stephanie Clarke said that "food loss and waste occurs with over 50% of food that is produced, grown, or distributed in Canada. As Guelph works towards a circular food economy, we can combat food waste together by working to reduce the amount lost in our homes and community."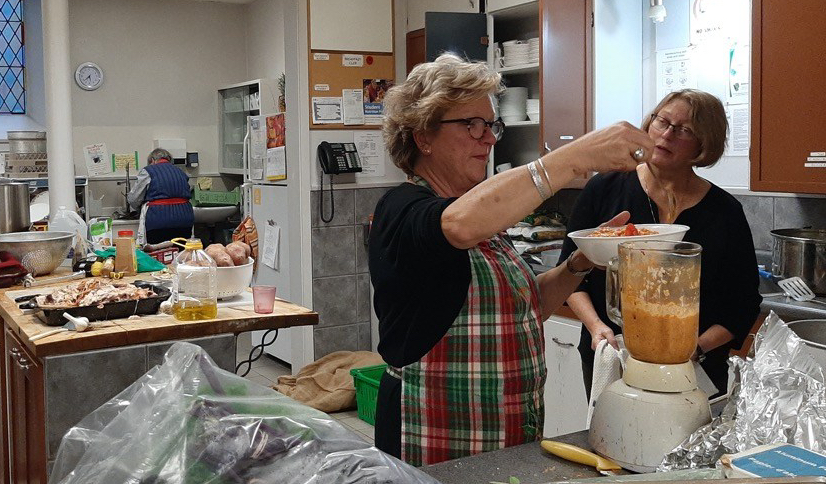 The idea for the meal was inspired in part by a new cookbook launched by the University of Guelph's Guelph Family Health Study. Rock What You've Got: Recipes for Preventing Food Waste  is a new online book that focuses on preventing food waste while helping parents and children eat lots of fruits and vegetables. Recipes from the cookbook were used to illustrate the principles of meal planning and using leftovers in interesting and unique ways. 
Dinner Coordinator John Dennis said "thoughtful meal planning and creative reuse of leftovers can have a significant impact on the amount of waste we produce and greenhouse gas production. The goal of this free meal was to bring to light this important topic."
 A recent report on food waste in Guelph homes reported that the average family was throwing away over two and a half kilograms of food per week. The report by Michael von Massow, a food economist at the University of Guelph, stated that the value of that food was about $18/week for each family and producing and disposing of it generated about 23 kilograms of greenhouse gases.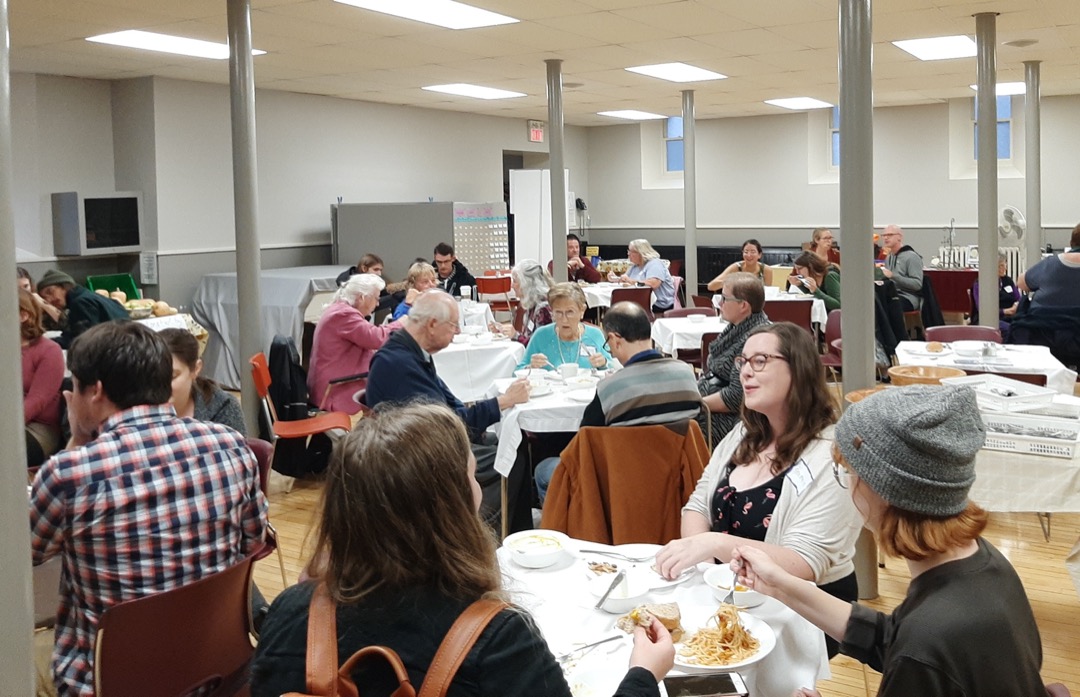 Food for this meal was donated by Hope House, Ignatius CSA, Two Rivers Community Market, and the Seed. The Seed is partner with the FoodRescue.ca which is an innovative program for neighbourhood food businesses to donate any type of unsold, good food to any organization that feeds people in need. Dinner Coordinator John Dennis said that "there are groups and organizations in Guelph working on the issue of food waste and food insecurity and we are happy to partner with them through this free meal and to highlight the work that they do." 
In addition to the free meal, there were short presentations, demonstrations, and information from a number of local organizations including the Guelph Tool Library, the University of Guelph Sustainability Office, and the City of Guelph Solid Waste Department. 
Living Better on Less Coordinator Stephanie Clarke said "everyone that came got to enjoy some good food and great conversation at this free event."