On February 12, 2022, the Diocese of Niagara Primate's World Relief and Development Fund (PWRDF) parish representatives held our first triennial meeting of 2022. Yet again, we met virtually and continue to long for the day we can meet in person. The purpose of these meetings is to pray, network, and learn about PWRDF initiatives as a team. The focus of the February meeting was an introduction to the PWRDF "Mapping the Ground We Stand On" narrative process and to learn about PWRDF's "Just Generation" youth initiative.
Cheryl Marek, a facilitator for PWRDF's Mapping the Ground We Stand On, and Suzanne Rumsey, PWRDF Program Engagement Coordinator, attended the virtual meeting to provide information and resources on how PWRDF is focused on Truth and Reconciliation. Mapping the Ground We Stand On workshops are a useful tool for learning and reflection together. Mark MacDonald, National Indigenous Anglican Archbishop, introduces the process as an opportunity to "uncover the truth and the falseness of many of the maps that are part of our individual and collective lives."
The workshop provides an opportunity for us to deepen our understanding of, and relationships with, Indigenous peoples. Many of us recognize that a lack of knowledge and understanding impacts our understanding of colonization and residential schools. A safe place is required in order to ask questions and to learn the true history of Aboriginal peoples in Canada. Through this introduction, it was suggested that a workshop designated for PWRDF parish representatives would allow them to experience the exercises and to report back to their respective parishes on the workshop. Planning is now underway to host a virtual workshop of Mapping the Ground We Stand On for our PWRDF parish representatives.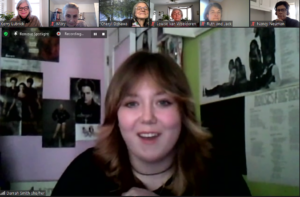 Darrah Smith, Ontario Youth representative with PWRDF, also attended our meeting. Darrah is a grade 12 student who is planning to attend university for criminology and psychology, and attends Church of the Nativity in Hamilton. Darrah recently hosted an episode of the A Just Generation podcast with Jamie Kneen from MiningWatch Canada. That organization "works toward a world in which Indigenous peoples can effectively exercise their rights to self-determination, in which communities must consent before any mining activities may occur, and in which mineworkers are guaranteed safe and healthy conditions."
Darrah reported that her experience as a youth council member with PWRDF has been "very informative and influential. Surrounded with like-minded individuals who believe in what [I] believe and want the same things in life [I] want. It is beautiful." You can support the Youth Movement of PWRDF by listening to the A Just Generation podcast, which covers topics like climate action, gender equity, etc.
To learn more about the PWRDF Youth Movement, click here.